Just stuff... There's a lotta STUFF. Did you ever notice in your world, in your life, there's a whole lotta STUFF?
Anyways, get ready to see a whole lotta STUFF... Here goes...(be prepared to see anything!

)
There will be five presentations of stuff that I have recently built and/pr bought. Two of them are reviews, just so it's known.
First off, I will present a review of something that may not belong here... At all... But they're new, and they're Star Wars, and they're cool.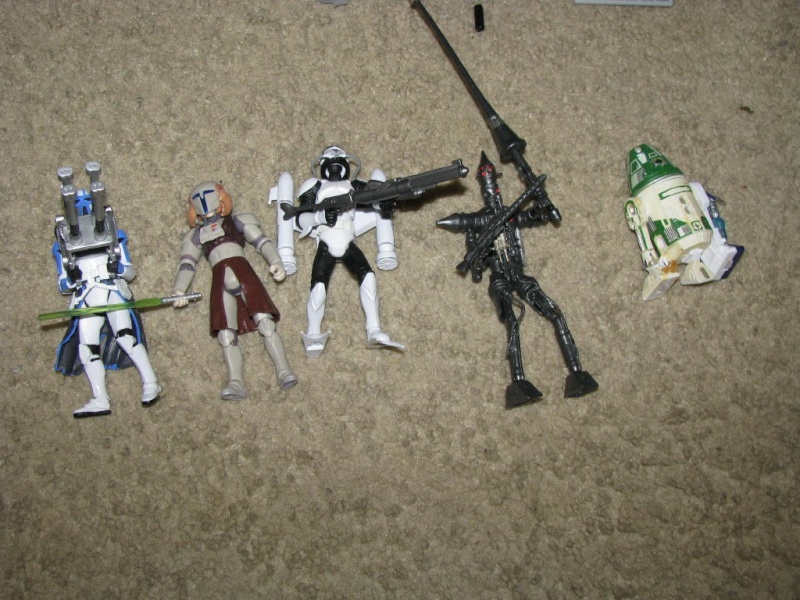 Then we have a modified version of the Indy truck. I added a fortified back entrance to make it more of a prison truck and the front is more secure. Plus, I added more of a frame under the canopy in the back so it wouldn't be so loose as it was originally. Detailed pics to come soon...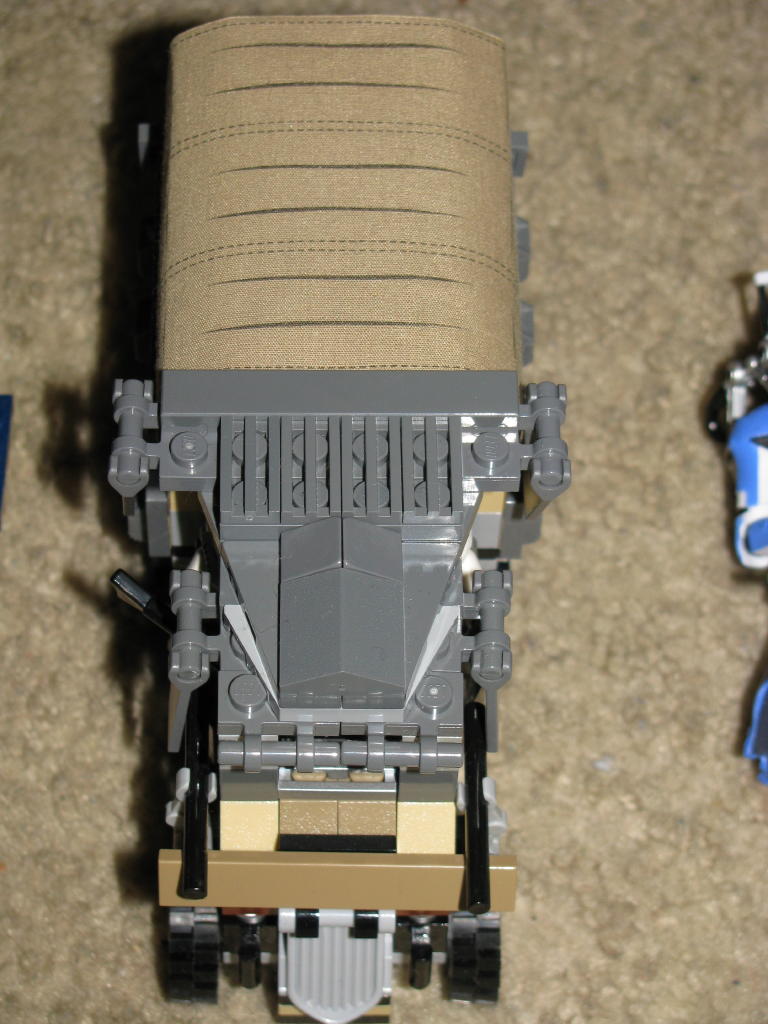 Now here's something I made a bit of time ago. A modified Agents jet from Mission 3: Gold Hunt. I added and modified a lot of stuff on this baby which I will go into when I resize the detail pics.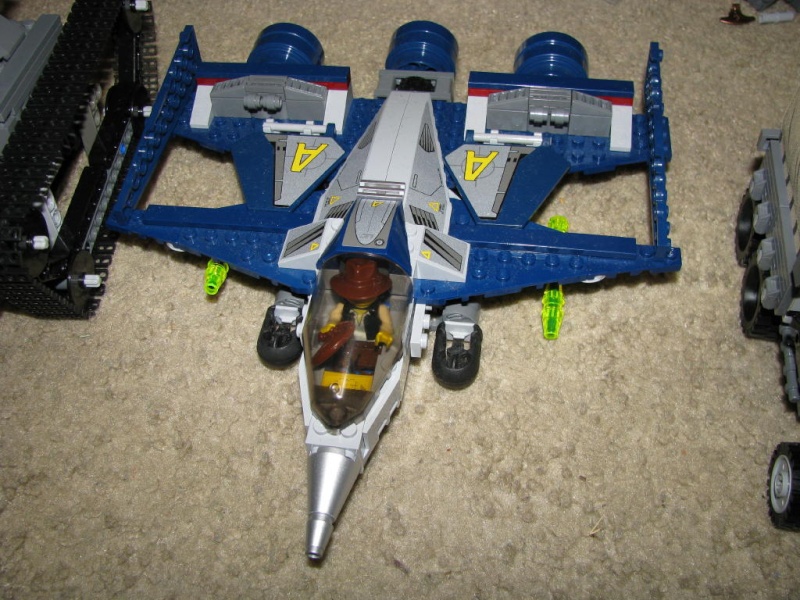 This is a tank which I just wanted to build because I had so many grey pieces everywhere. The highlights are the treads and the turrets and the roof work. It's sorta a Twilight as a tank.

Feel free to tell me where to modify it. One flaw which I am not pleased about(and I'll get this out now) is that either I'd want to shorten the length of the treads or increase the length of the body. The former is easier, but I'll see what I can do first.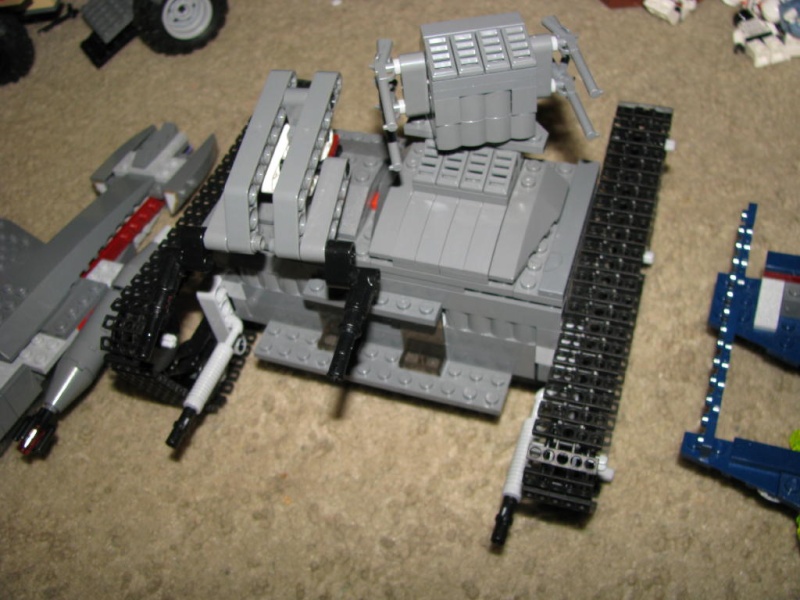 And finally, you will get my review of the Magnaguard Starfighter.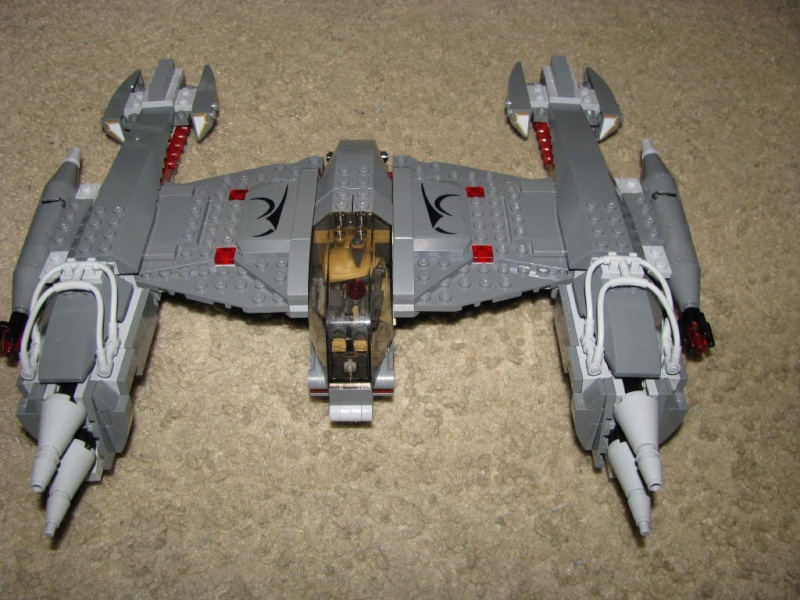 Hope ya'll are excited about these MOCs and reviews which are coming up soon!(and none too soon... I procrastinate too much...
)
Last edited by CommandoEighty-Oh on Mon Aug 18, 2008 10:55 pm; edited 1 time in total

80-0

Non-Guild Member





Age

: 24


Location

: New York, New YORK!






I just got the MGS, you beat me to the punch...
.

Comrade Faie

Guild Member





Age

: 22


Location

: Viva La France and Rick Alstley






Well, at least it means I can actually post a review and be the first.

Anyway, since this topic has mysteriously died, I'll post(in no order whatsoever) my stuff:
Magnaguard Starfighter Review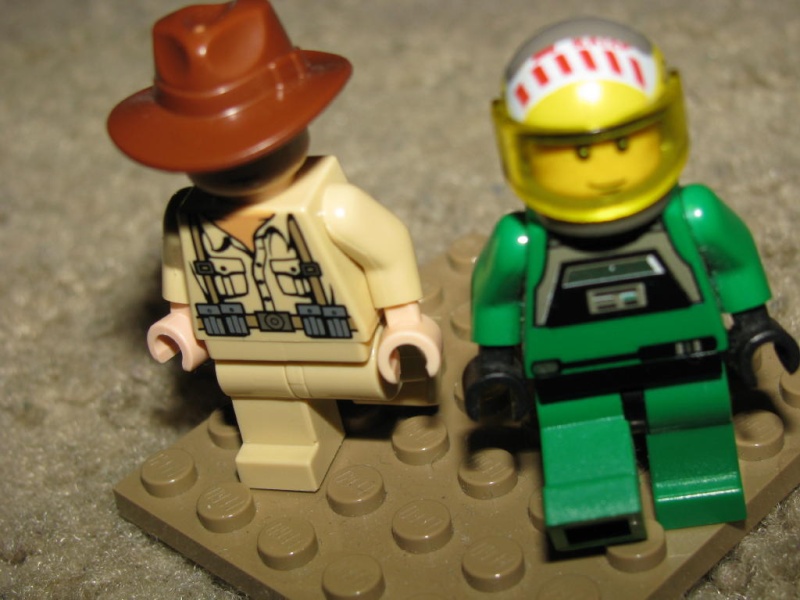 Me: So, what do you want to do today?
Paul(my older brother

): Let's review the Magnaguard Starfighter!
Me: great idea!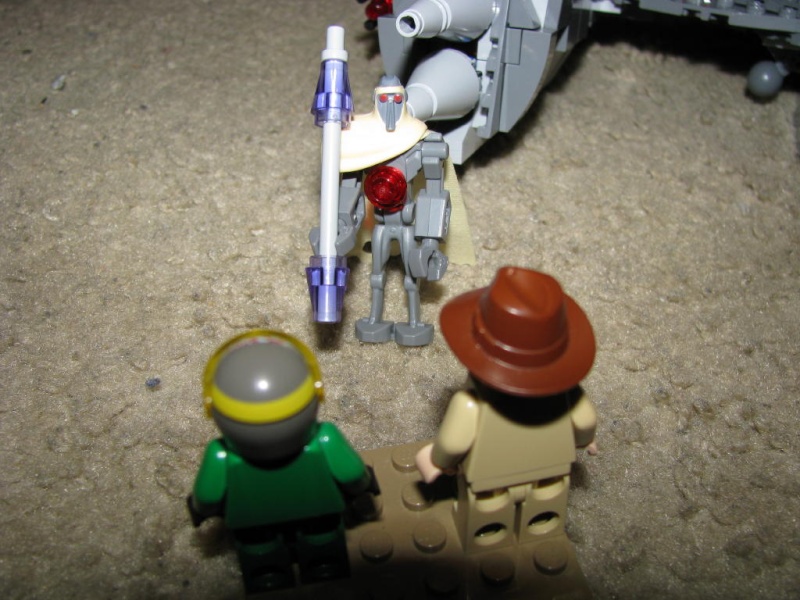 Paul: We'd like to review the Magnaguard Starfighter, please.
Magnaguard: Sure thing! I'll start you off by falling apart.
Me: Fascinating!
Paul: Indeed! I see three new pieces overall: The head, the torso, and the cape. Nice cape; the first to have but one hole. Intriguing.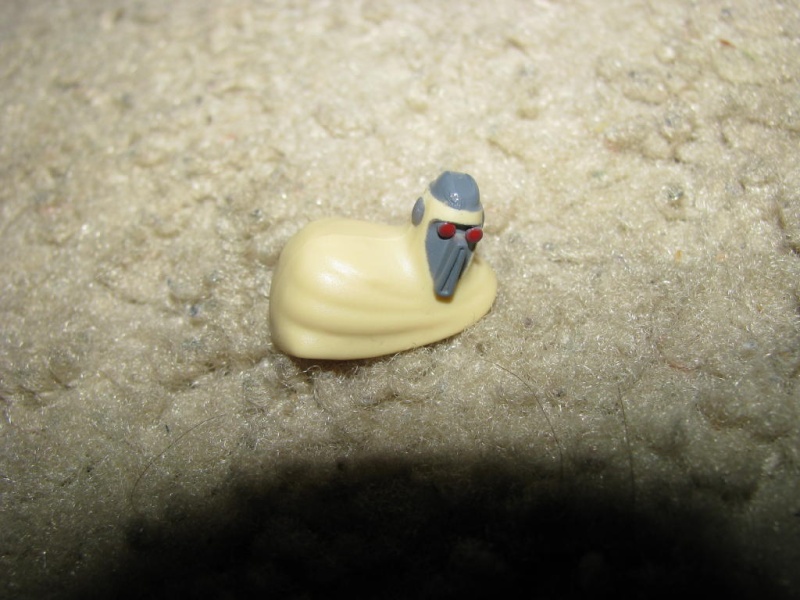 Me: The head is very detailed. It's neat how they fused the hood with the head.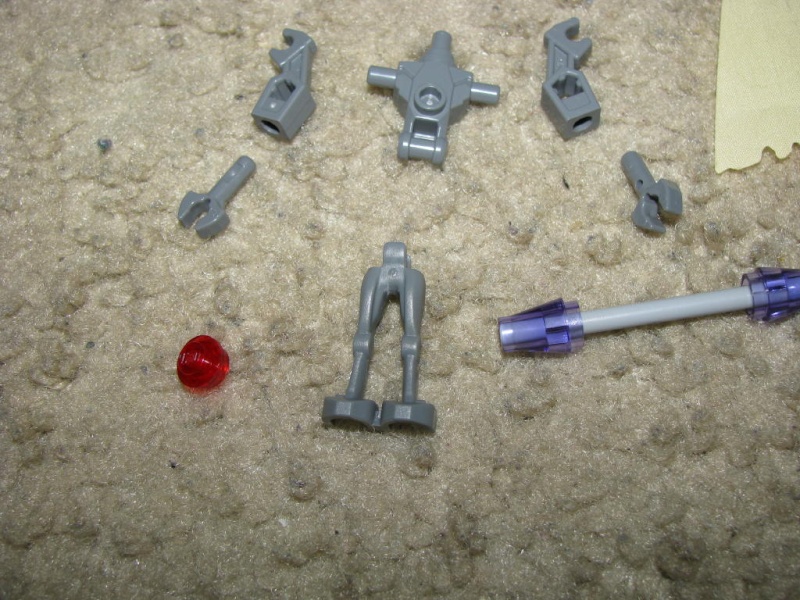 Paul: Notice the Super Battle Droid legs! Cool!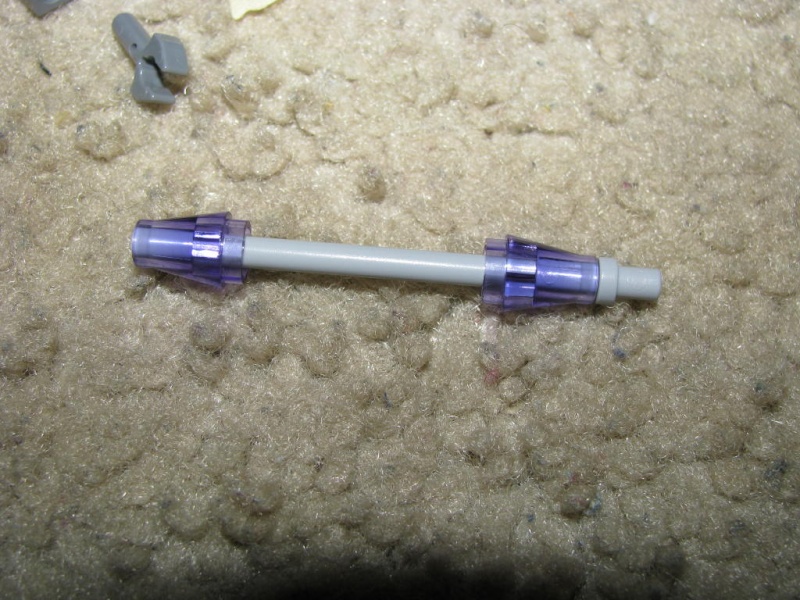 Magnaguard: *re-attaches hand* Now then... The electrostaff! I didn't really like it the way it looks above.
Magnaguard: For that reason you see this much better looking version of my lineup's chief armament.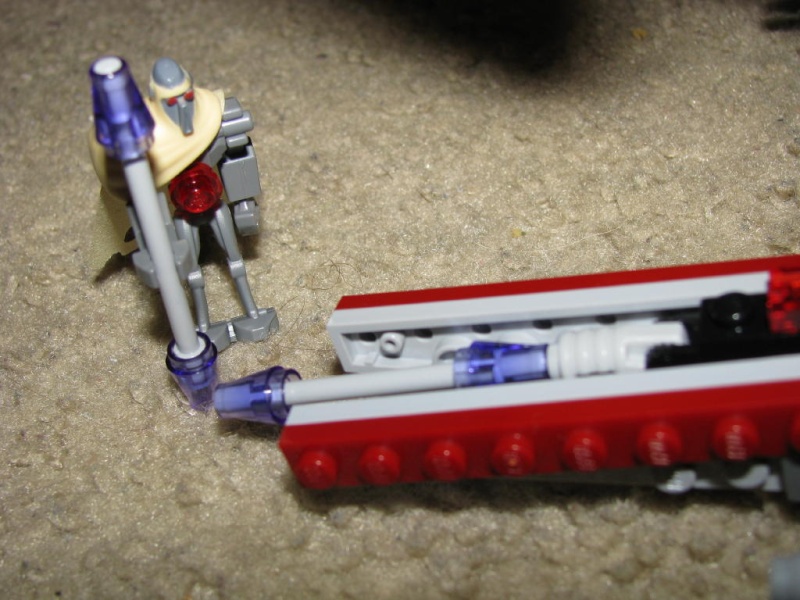 Magnaguard: This craft has two holders in which we store our armaments, one on each side.
Me: So if you lose one during a mission you could get a second from the holder?
Magnaguard: Precisely.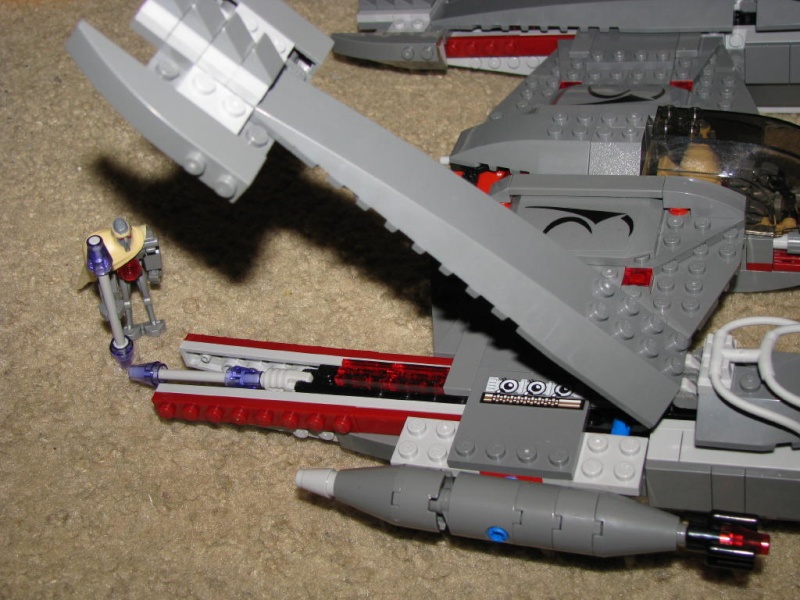 Magnaguard: They are cleverly hidden behind these long panels which fold up thusly.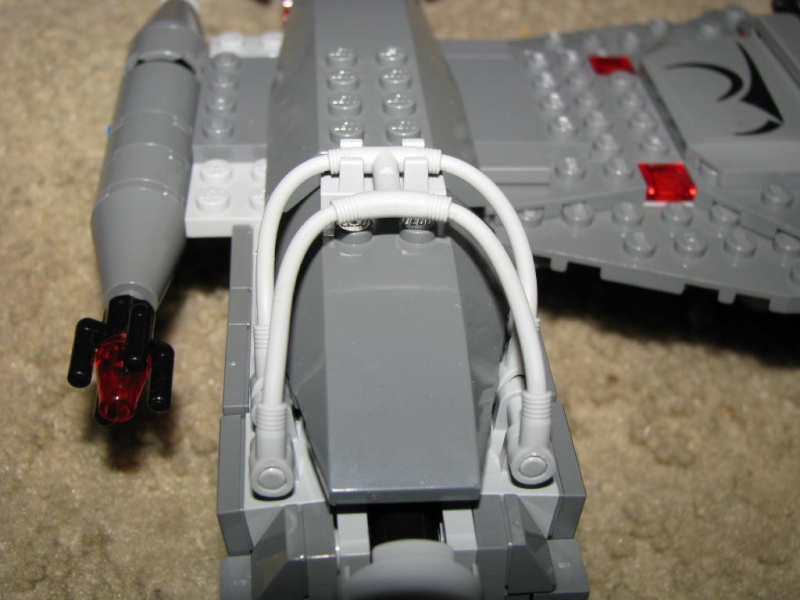 Paul: Looks VERY nice! I love it when Lego gives us detail like this!
Magnaguard: Lego?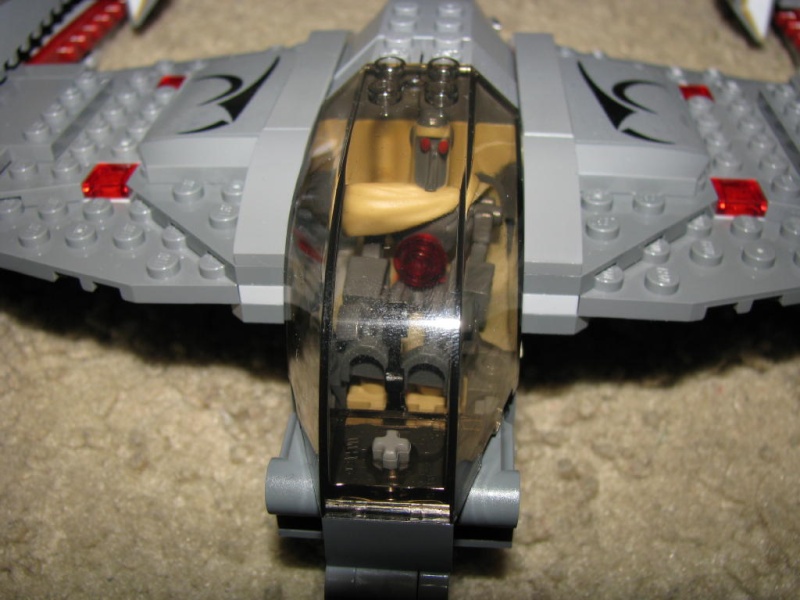 Magnaguard: Here's the cockpit. Looks very nice, if I don't say so myself.
Me: The cannons sure look deadly. Four of em', too!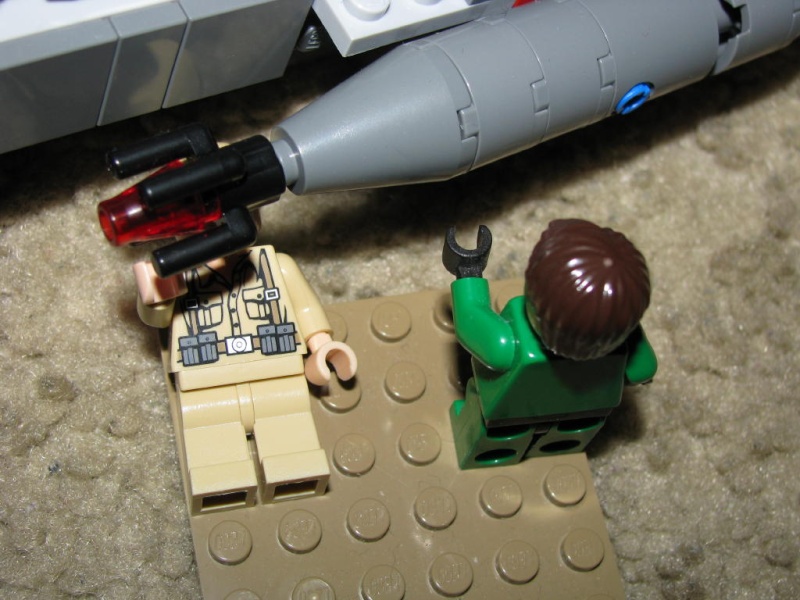 Me: MORE lasers? Geez, this thing is unstoppable!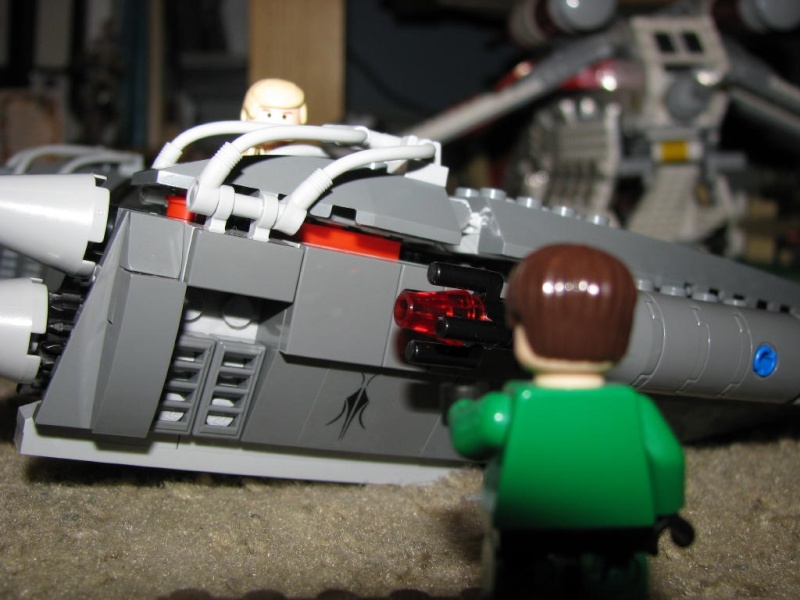 Paul: Wow! Look at all the SNOT techniques on the bottom!
Magnaguard: *to himself* Snot? Maybe this was a mistake...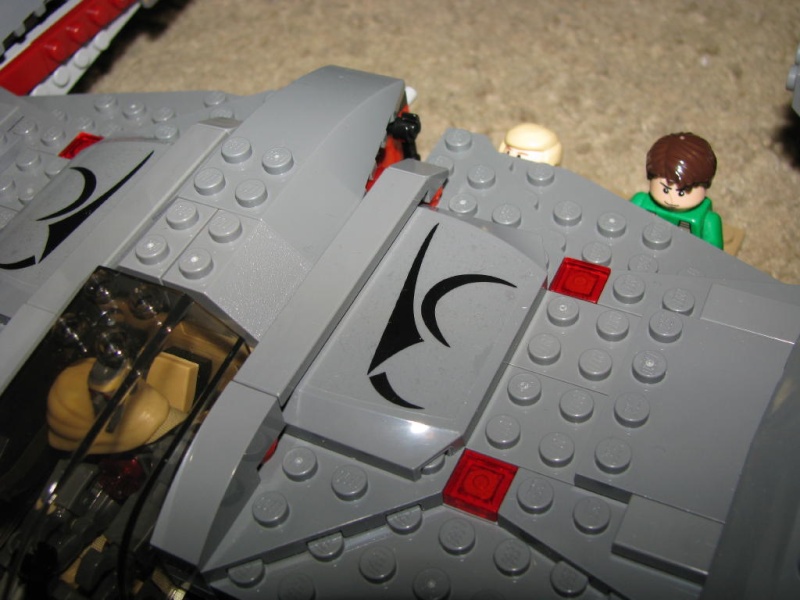 Magnaguard: Those designs are, I believe, from the Utapauans from whom we got this starfighter.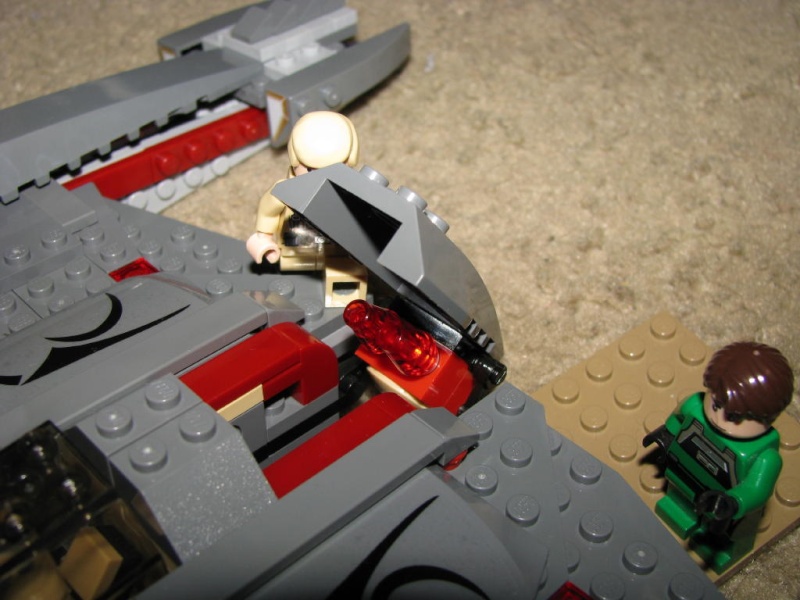 Me: Oh? What's this?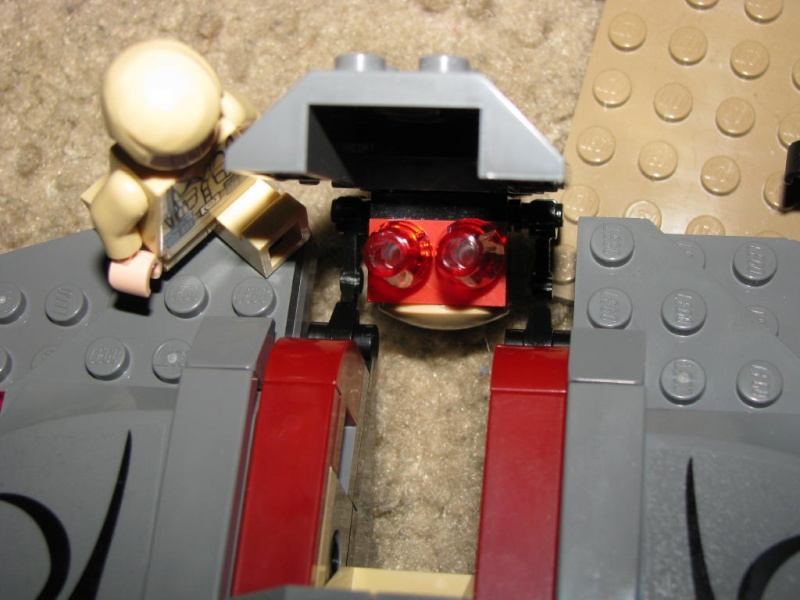 Me: A hidden missile launcher! Fascinating!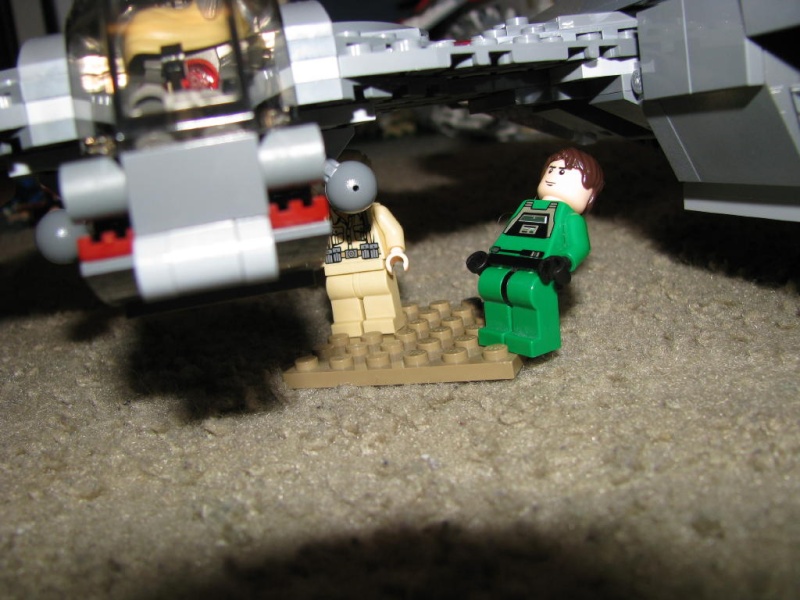 Paul: How, I wonder, does the cockpit actually open?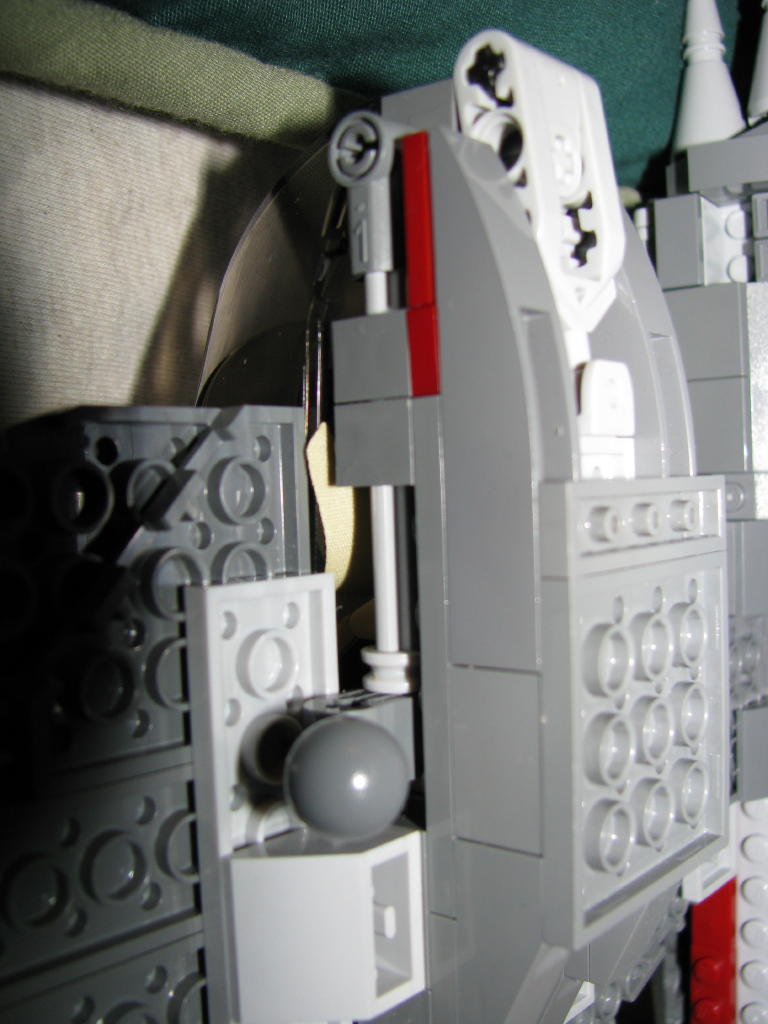 Magnaguard: Quite simply! You see the ball attached to the axle?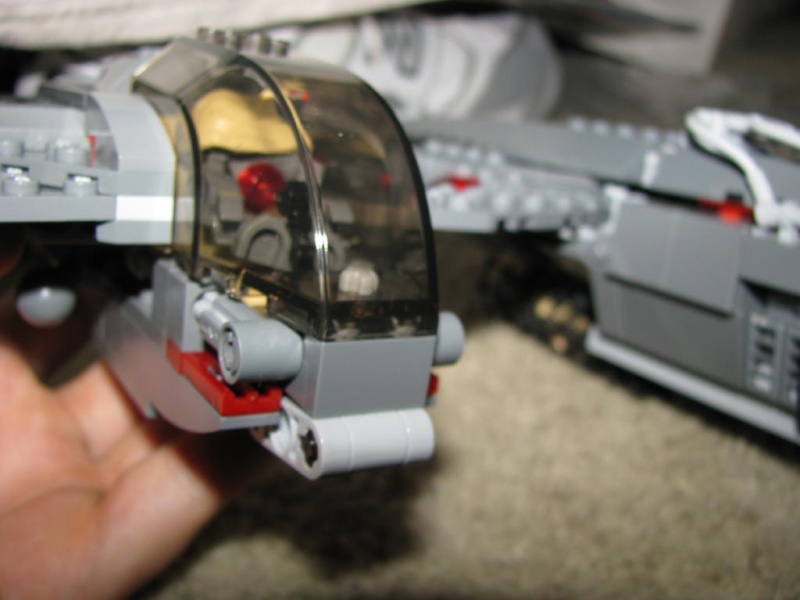 Magnaguard: It pushes the axle forward which pushes the brick which attaches the cockpit windshield to the mechanism.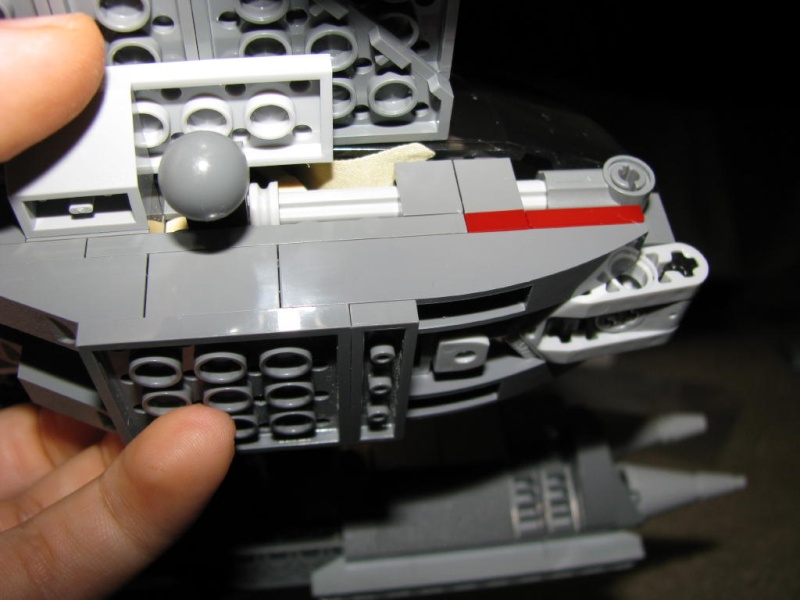 Paul: And that grey brick keeps it from falling off entirely?
Magnaguard: Precisely.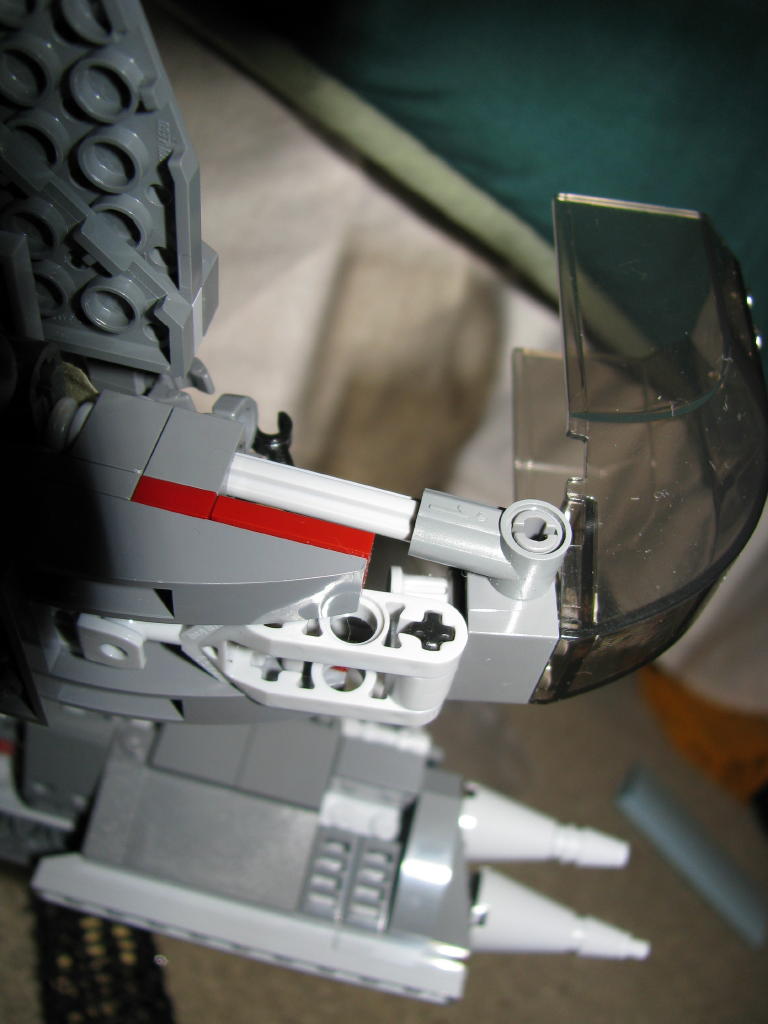 Magnaguard: There, you can see it open.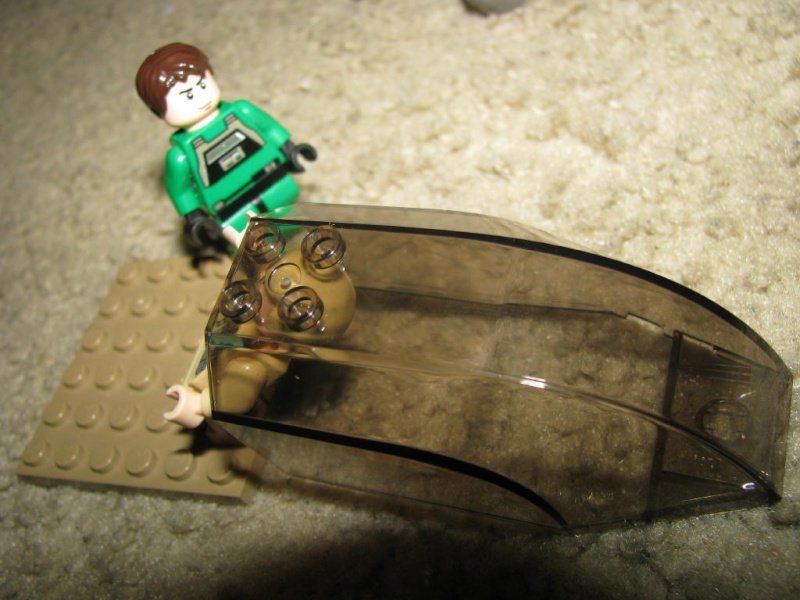 Paul: What a beautiful cockpit.
Me: Hmm...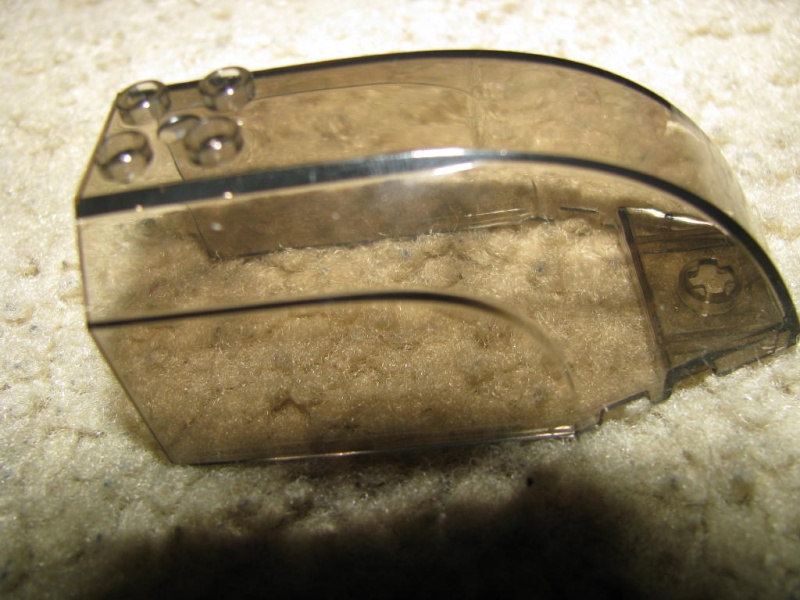 Me: I think this would make a rather nice Theta-class shuttle windshield, eh, Paul?
Paul: Indeed...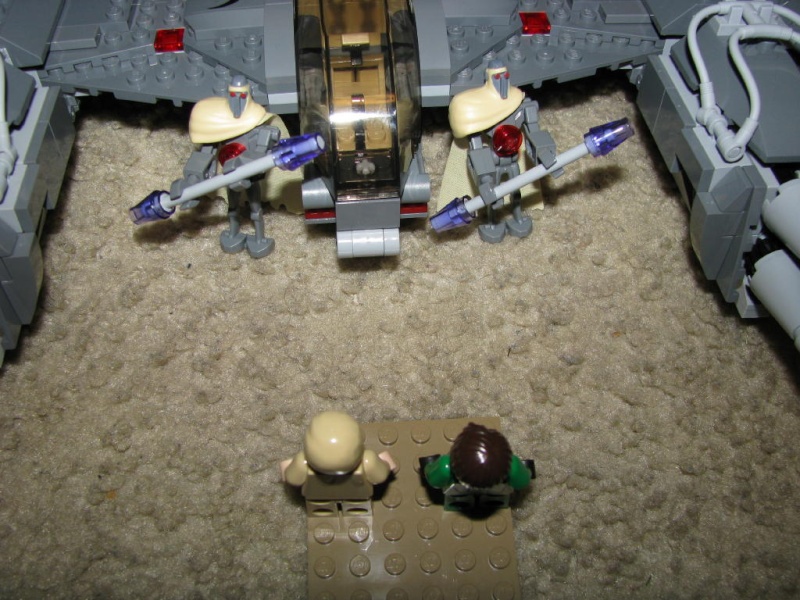 Paul: Well, thanks for letting us review the Magnaguard Starfighter, guys!
Magnaguards: Come again! *arms electrostaffs* Or else!
Paul: Oh, we will...
Hope ya'll enjoyed it!
Ratings:
Minifigs: 10/10 Two magnaguards? WIN.
Pieces: 9/10 Lots of nice SNOT bricks and slopes.
Build: 9/10 Simple build, but intruguing, especially the cockpit. My only gripe is that the covers for the electrostaff holders sometimes fall off as they aren't held on very well.
Look: 100/10(no typo) BEAUTIFUL. It's a WORK OF ART. Plus, it's a frickin' starfighter. We may have been skeptical of this line being too expensive, but PLEASE. Go out and BUY this set. You will LOVE it.
Swooshability: 7/10 I heard a few swooshing sounds... It's more fun to play with.

Playability factor: Enormous. great for dogfighting the V-19, lots of weapons, a cool cockpit feature, and two new minifigures.
Score:
It's the new Rogue Shadow. For me, it seemed the crow of the lineup. Then when I saw it I LOVED it. Now don't use your opinion on the Rogue Shadow should it be poor on whether or not you want to buy this. And I don't mean that it LOOKED bad. I mean that originally people were skeptical as they had never heard of it, but believe me: This ROCKS.
Well, there's more where that came from...

80-0

Non-Guild Member





Age

: 24


Location

: New York, New YORK!






Two announcements(sorry for the double post
):
1. I will be reviewing four ADDITIONAL Hasbro figures in this very topic so that means eight overall! So you'll see whether or not Hasbro has been releasing some good stuff this year.
2. I will close out this show with three bonus MOC/'nettes from the new Clone Wars movie which I still haven't seen. But I've seen what I built in some rather good detail; what could it be?
And I'm doing the review of the first four figures next. Then I'll show you more about the Agents Jet, then the truck, and finally the Twilight with treads!


80-0

Non-Guild Member





Age

: 24


Location

: New York, New YORK!






Nice, hilarious, in-depth review! That MagnaGuard Fighter sure looks hot.

Thanks! And thanks to Rook I won't be reviewing the non-Lego stuff anymore.

(I just wanted to test the water to see how they'd go down; thanks for informing me, Rook
)

80-0

Non-Guild Member





Age

: 24


Location

: New York, New YORK!








Similar topics
---
Permissions in this forum:
You
cannot
reply to topics in this forum