OK, this is the one that features the Arachnoid. You can all stop yelling at me for it now.
After their skirmish with the droid forces in the entrance the Apaga cavern, the 324th finds itself deep inside the tunnel's bowels, and inside the Gamma testing grounds...
Shao: I have a bad feeling about this.
Tyrus: You don't say sir. This tunnel gives me the creeps.

Helios: Look over there general, it's the helmet of one of our men.
Tiest: So where's the rest of him?
Shao: Look at the blood around the bottom of the helmet. It looks as if he's been eaten.

Shao: The droids must be using some kind of creature in these caves. But what?

Tiest: With all due respect sir, how to we know it's not just a wild animal.
Shao: We can't rule out that possibility but normally, the droids would just slaughter everything near their base. This doesn't feel right for an animal attack.
HELP!!!ARRRRRHHHHHH
Polus: What the...?
Shao: Put him down!
Tiest: Sir, wai-.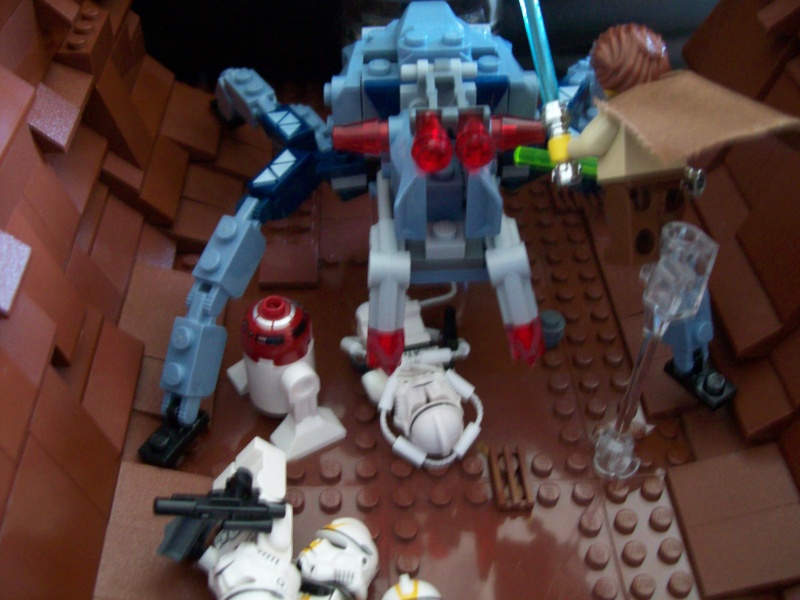 Polus: The creature just paraly-
Shao: Let him go!
Creature: IRRRRRR...

Shao: Get out of here!

Clone: Urrrrr....
RT: Bleep bleep boop.
Tyrus: He says it stunned the other men with some paralytic liquid. I was the only one who it didn't hit.
Shao: The droids are obviously controlling the creature but how? Once the effects wear off the men, we'll have to move on. If the Techno Union really is experimenting with Arachnoids, then we could have a crisis on our hands.

Again, I hope you enjoy!
Tyrus: Sir, the creature has paralyzed the others with some sort of goo.
Will this be your last cave story? This is getting boring, at least add some bubbles...

DarthPineapple

VIP Former Staff





Age

: 23


Location

: The Netherlands






Somewhat agreed, prehaps a change in the cave ( more underground section) would be in order. Other than that I love the story, and Gamma looks really good!
Nice! But why couldn't the trooper who was snared have been eaten! I mean, blood and gore is good for you!


At least I think so...

-Aki-

Non-Guild Member









Well, I've completely torn down my cave (by popular demand).
I'm not entirely sure where to go from here but I'll work on it.
I like it but all your MOC's have all been in one MOC with different figures.
Last edited by Commander Faie on Sun Oct 05, 2008 9:26 pm; edited 1 time in total (Reason for editing : kkkkkkkkkkkkkkkkkkkkkkkkkkkkkkllllllllllllllllllllllljjjjjjj)

Comrade Faie

Guild Member





Age

: 22


Location

: Viva La France and Rick Alstley






I really like how the arachnoid comes out of nowhere, that really makes this MOC great!

And in agreement with Faie, you should change the MOC up a bit...

---
Permissions in this forum:
You
cannot
reply to topics in this forum