After much time in medieval-lego-world, The 908th Legion is revived. (And a bit different.)
Legion led by CC-6072 "Denex" and Jedi General Hrixc.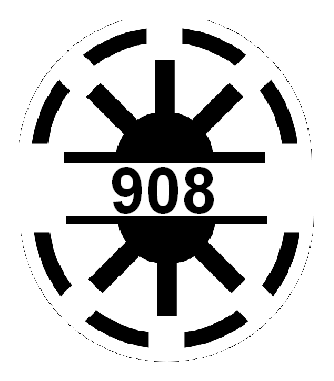 Here is the accompanying legion picture.
Now to get some idea of formations going.
The 908th is divided into Four regiments including the 10th Infantry (Led by Commander Zevark), the 56th Airborne (Led by Commander Paplea), the 107th Mechanized (Led by Commander Faer), and the 475th Fleet Defense (Led by Admiral John).
*Pictures coming soon*
No other notable groups are in the 908th except for Lambada "λ" Squad who coincidently is led by "Gordon the Freeman."
VEHICLES
(one picture below, more in individual threads. Coming soon)
908th Gunship:
Last edited by Pandascide on Tue Feb 17, 2009 2:18 am; edited 4 times in total
Why don't you just BUMP your legion thread?
The visor is actually orange.

Good point, actually. NOt sure why the thought didn't occur to me.
EDIT: My next *gulp* project actually, is the *gulp* revival *gulp* of The 908th Dropship/Command post/ defensive base *gulp* vehicle.
After two attempts I never quite got it right the way I wanted. But, third time's the charm. Right?
Do you have a link to this Dropship? I joined after you left...
in the search box just type 908th and all my previous things (with the exception of a post-apoc creation) will be there.

EDIT: I am currently working on a drawing of my CC in Phase 1 and 2 armor.

---
Permissions in this forum:
You
cannot
reply to topics in this forum