Ok, The Blue Shadow Virus and I had a moc-off to build one of the Western Coalition Drones from the game Frontlines Warfare. Check out drone pictures and info here! Since Blue Shadow is not allowed to open topics yet he's sent me his creation in a pm which is as follows:

The AQ431 Drone
was a rolling drone, it could almost roll in everything.
The AQ431 was made in 2000, and has just come out on the market, imagine when you are going around a corner, suddenly you will see the AQ431 in front of you, and you do not know what it is.
The AQ431 was fast sold out all over the world, and was in use in the Republic forces, the Separatist made up there own version.
Here we have a front shot, of the new AQ431.
Here we have a side shot, where you can see its rolling mechanism.
Here we have, a random shot.
- The Blue Shadow Virus


Legorevo's MQ38 Hunter Drone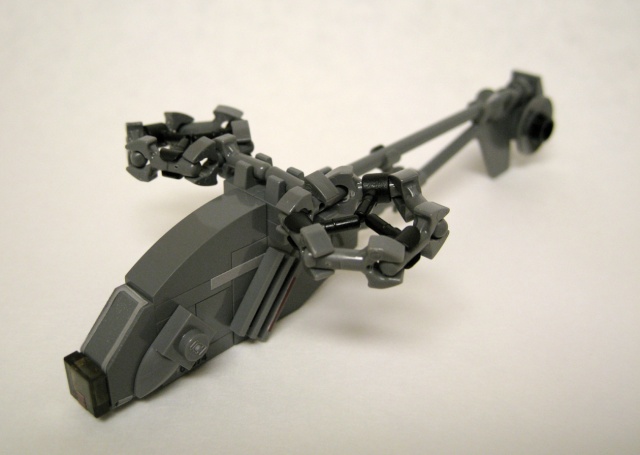 Rest of the pics here
Your's was the best, but The Blue shadow virus Drone had a cool design.
I voted for the hunter not only because it looks better (the drone doesn't look bad though) but because I like the chopper style in general. It's more effective.
________________________________________________________________

Clonecommando007

Kinda like a UFO





Location

: Ohio






BSV had a good design, but sort of blocky on the bottom. I voted Rev because of the awesomeness of his MOC and because I think that his was much more detailed and executed.
Not sure what was up with the first one but the 2nd was sick! Keep them coming LRV!
________________________________________________________________
Signature by RΟΟK, on Flickr
If LR isn't going to win this...


DarthPineapple

VIP Former Staff





Age

: 23


Location

: The Netherlands






It says a little when it's him holding the poll.



Astor

Guild Member





Age

: 22


Location

: Oslo, Norway






Legorev is totaly going to win right now he has 88%.
Well, I think I won.

I had fun with this moc-off Blue Shadow, I guess I'll have be choosing the next one!

---
Permissions in this forum:
You
cannot
reply to topics in this forum