Was one of those impulse MOC's I scrapped together after finding some black bricks lying about. Not the best, but eh

....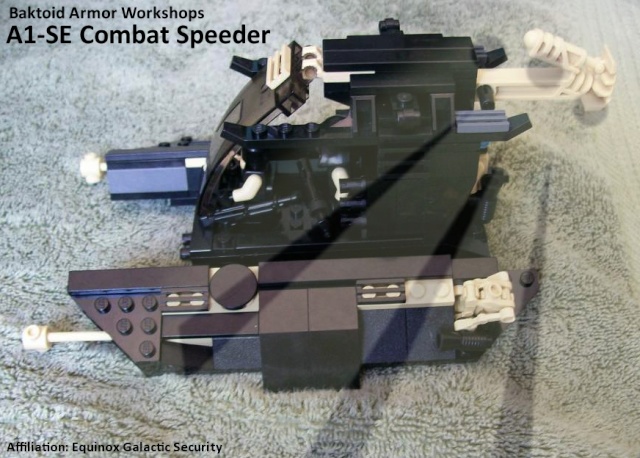 After realizing that their post-drop-in arsenal was rather lacking, the Equinox PMC turned to the major manufacturing think tank for the Seperatist armada, Baktoid Armor Workshops, to create a reasonably inexpensive yet formidable combat platform. The A1-SE would be their response, adding to the already brilliant A1 series they had designed for Equinox/CIS detachments. Three varients, easily switched from one to the other between combats, were produced. The first was a light repulsorskiff, allowing for easy transportation of battle droids, frontline infantry, or commando units to their objectives. The second varient sported a slightly heavier armorment, and the third was a speeder-turned hovertank. Each transport could hold a Biege Beret combat technician, two B1 Battle Droids, and either a ODC Section, 4 more B1s, or 3 B2s, along with a weapons package for the troops.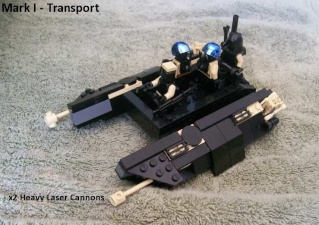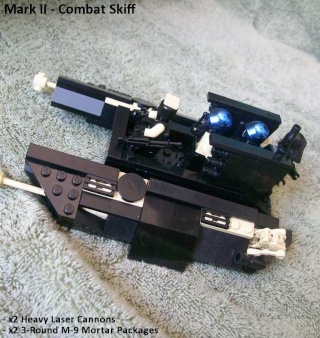 Eh..

It's kinda tall, not your usual awesome MOCs I'm afraid.
It's not really a speeder it's more of a tank!But it's pretty good!

Sceptrio1289

Non-Guild Member





Location

: my room(where legos are)






Thunder-blade wrote:Eh..

It's kinda tall, not your usual awesome MOCs I'm afraid.
Yeah, it looks a lot taller in the picture, but I was struggling with creating a proper cover for the occupants without making it seem like a high-rise

.
Not something that I am really impressed with. Just not something that is appealing to me. I would make the front longer as well.
It looks ok. I like the colors.

Superperson

Non-Guild Member





Age

: 24


Location

: usa






A bit on the tall side but still great. It reminds me of the republic fighter tank.

I think it looks kinda like a boat...just kidding!

(Looks at sialboats' rank.)


Similar topics
---
Permissions in this forum:
You
cannot
reply to topics in this forum