So lately I've been into WWII, and since there is a contest on Flickr, I decided to make several Vignettes. Here's the First one, Bastogne:
Two allied soldiers in there fox hole have been ambushed by nazi's! Luckily help is underway, and so is the medic. The empty tree trunk is supposed to show tree's that were blown to bits by nazi artillery.
The Next one, a 8x8, I named 'Mortars'
We were finally of the line again. Given the Job to arm the Mortar's was one of the best things I'd heard since the start of the war. No dreadful front-line fighting, seeing your comrade's in arms dying, falling to the ground.
And finally,
The Forgotten
:
As we found the forgotten paratrooper, we knew he'd been there for a few days now already. It smelled terrible. A new one, must of not been able to control his chute properly. On of the other men could barely stand it, and let his hat drop to the floor. Losses like these were terrible, and made me ache for home even more.
And don't forget to check out the Flickr Set!
Well, thanks for stopping by, and don't forget to C&C. I had fun making these different Vigs. Enjoy!
Very nice, I love the paratrooper 'Forgotten' one the most.

DarthPineapple

VIP Former Staff





Age

: 23


Location

: The Netherlands






Very nice! I love the dip in the first and the story in the last. Bravo!
Like your first vig the most. It's pretty hard to make a vignette with a snowy environment, but I think you've done well with that.

Axel

Non-Guild Member





Age

: 23


Location

: Australia






Your allied figs... don't look like the allies. The hats simply don't do it. It might work for Germans, but not for Americans. Get them some real helmets

.
Other than that, the vigs and bigs were executed well. The first one had a little too thick of a base, without any reason for it (no blast crater), but that's excusable.
In the first pic, the guy with black hair has an arm pulled out of its socket.
Have you seen my dead paratrooper vignette because yours looks a lot like it?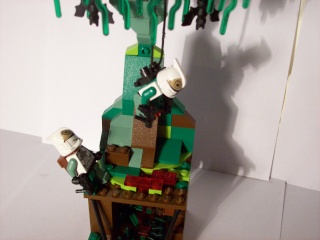 Luke

Non-Guild Member





Age

: 22






DP: Thanks!

Tac: The 'Dip' is supposed to be a foxhole.

Axel: Thanks again!

Sial: It's extremely hard to find a purist solution for allied american Helmets. I'll simply have to wait until Will releases his self-made ones. And yeah, it had a reason. The base is that thick is because there's a foxhole in it, not a crater.

Luke: They guy does have the arm pulled out. It's placed like that so that he looks like he's actually aiming the gun somewhere. It's just badly positioned from this picture. And no. I did not see your vignette. Paratroopers often got caught in trees and were simply not found, a.k.a. forgotten.

Thanks for all the comments so far!
Wow, you really have a thing for these. They look very good! Good luck!
The first one is very well done building-wise, and the third one is very well done story-wise. Nice work.


Similar topics
---
Permissions in this forum:
You
cannot
reply to topics in this forum