It's not really big enough for a "What You Haven't Seen", but it's not small enough to not go un-posted. That, and I simply felt I needed to get something up this week

.
First-up, minifig weapons parade: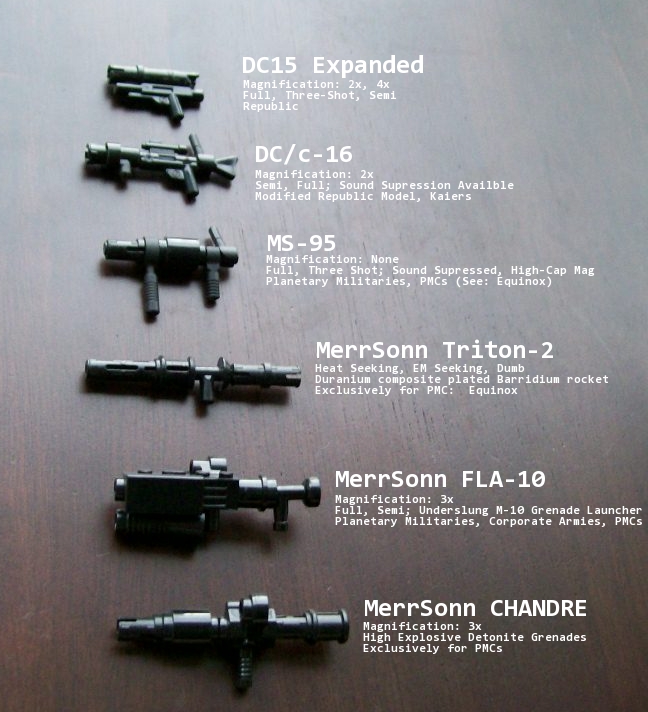 Modifications to my Ocuputarra's legs, adding a little bulk and detailing: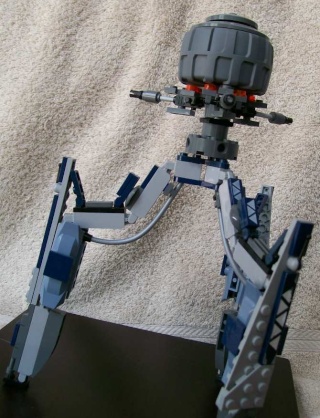 Up-gunned version of the Tri-Fighter I made out of what remained of my original three, unmodified and whole sets: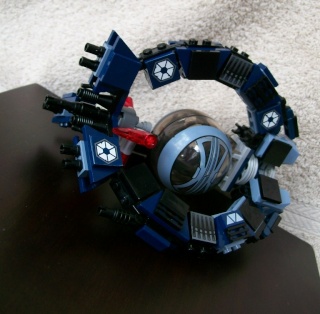 "Colla Designs Tri-Fighter Production Variant 2"
A heavily armed, and thoroughly armored version of the already feared Confederate Tri-Fighter, the second production run featured six more blaster cannons in the nose, three particle cannons in the center ring, and thicker duranium plating; making it almost impervious to sustained laser fire. Improved intelligence and dogfighting packages in the crafts AI system also increases it's impressive lethality. However, these modifications proved to be cost ineffective, and the project resulted in only 145 new models created, and 518 existing units outfitted with the up-gun package. It was particularly seen procured by Separatist divisions with Equinox Battlegroups attached, privately purchased to assist Equinox in what was quickly becoming a much more involved contract than they had anticipated.
And my Blastromechs poster. I built my first out of table scraps, then became so infatuated with the idea that I built three more, but I ended up scrapping two for my AT-RT builds, so now my picture only gets two

. Just a fun little idea that popped into my head, and allowed me to explore the "Revolutionaries" that the 541st will encounter as they retake Bandomeer from the Seperatists in
Ghosts

.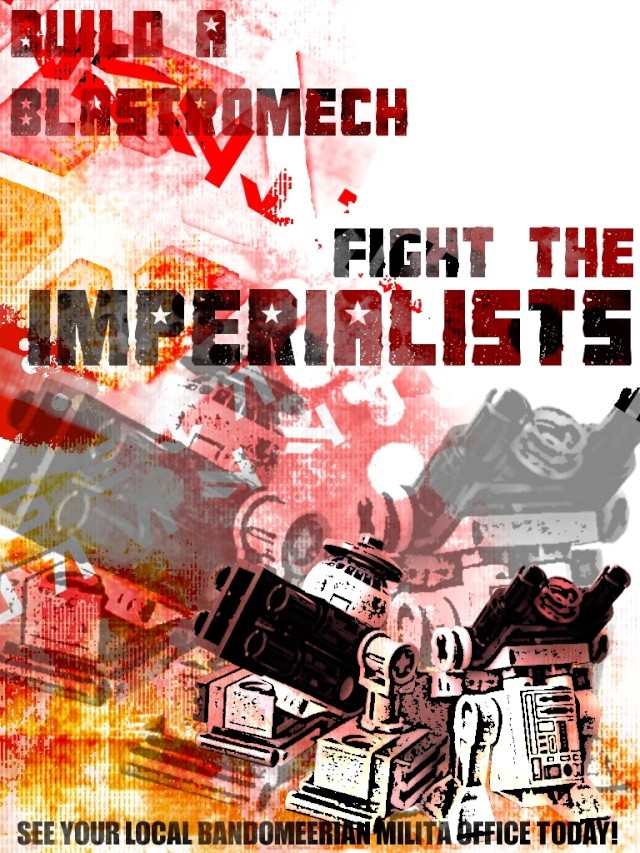 "Fight The Imperialists"
After Bandomeer's colonial government was overthrown, and replaced with a radical revolutionary as President, the Bandomeerian people quickly needed to form a defense force to stave off the inevitable reprisals that their nationalization of Republic industry on the world, and their cancellation of invaluable mining contracts would bring. Knowing the CIS alone would not protect them, the Bandomeerians made use of the innumerable R2, R3, and R4 Astromech components in mines throughout the planet. Private citizens who were not members of the "Bandomeerian Liberation Front", but who had experience working with droids in their jobs at Ore Processing Facilities, strip mines, and in their private lives, could upgrade the innocuous droids into weapon platforms using whatever spare parts they could find to optimize their AI, reinforce their chassis, and prepare the droid for weapons outfitting. When ready for it's armament, the Militia would work with the civilians to install a suitable weapon back at one of their many headquarters. The "Blastromech" as it was affectionately dubbed, not only served as the poster project for Government-Civilian cooperation, but functioned as a Squad Support weapon for the beleaguered militia units.
"Build a Blastromech"...
Ingenius! I love the purist guns you have down there, particularly the DC/c-16 and the MS-95.

80-0

Non-Guild Member





Age

: 24


Location

: New York, New YORK!






The guns are amazing and the MOC's are as well. The tri-fighter has a great design and it is just..well....awesome. I liked how you bulked up Ocuputarra's legs as well, it looks a lot better.
Those Blastromechs are pretty good. I think I just may end up building one...


Jedi Joe

Guild Member





Location

: Florida, the state of neverending heat and humidity...







---
Permissions in this forum:
You
cannot
reply to topics in this forum