One of my best creations yet.
The Predator.
A heavy class transport used to carry troops to different planets, usually only used be commanders The Predator was a strong and had a sleek design that kep it it going for far distances. It is armed with no weapons, but attachable turrets could be used. Can fit a maximum of 8 troopers and a pilot.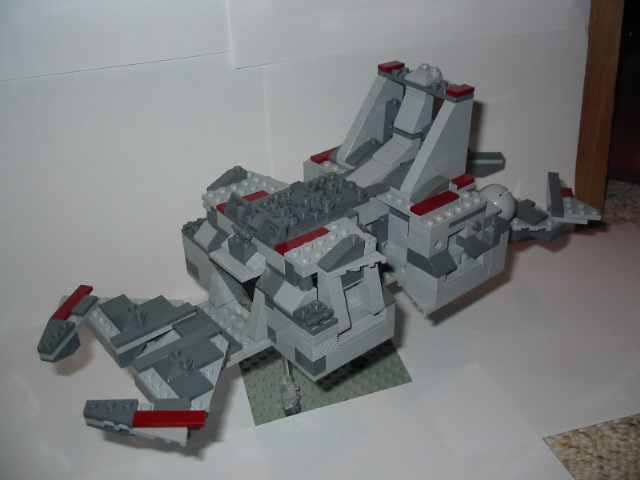 Last edited by Gerrard on Fri Sep 04, 2009 5:47 pm; edited 1 time in total
Maybe add a description? Right now, all I see are Blurry pics and some jummbled pieces.
I agree with CT, however, the shape is very nice.

Legomotion95

Non-Guild Member





Age

: 23


Location

: 4 Tapley Avenue






I'll get some more up later, I had to use a different camera as my sister took mine while she was gone today.
Sleek design? Ehh... No.
It looks like a box with random pieces attached to it.
Using more sloped pieces pointing forward would greatly improve it.

MilitaMoose

Non-Guild Member





Age

: 22


Location

: The bedsheet fortress






I would say that it looks alot like a lobster.
That's a good thing. It gives the craft character.

Legomotion95

Non-Guild Member





Age

: 23


Location

: 4 Tapley Avenue






The problem with this one is that there is no gradual changing of elevation, or no consistent elevation. It goes from plates to brick wall, and that there just doesn't sit well with me

. There's effort here - yes. It looks rather nice... but it's a little rough in design.
I'm with Sial. The shape needs to be more gradual. And you need to use less conflicting slopes.
I see what you mean, there will be a V2 up.
I have no idea what that is!!

It's like half box, half landscaping...


Similar topics
---
Permissions in this forum:
You
cannot
reply to topics in this forum