After about 2 months of not having time to do anything but eat, sleep, and go to school and practice, I am back with some stuff!
Backstory: A clone pilot is flying with his squadron through an astroid field, when he clips the wing of his ARC-170. He tries to regain control, but hopelessly fails, crashing to the surface of the planet below, a rural planet called Brvic VII. His ship plummets into the town of Arbenax, crashing through a building, then stopping. The townspeople, not used to war or danger of any kind, flee to the country beyond. The town is vacant. 3 months later, the 667th Legion enters the planets atmosphere, in hopes of making a peace treaty with its people, to insure there will be no rebellion. They later find the town of Arbenax, and the crashed ship. They set up a base in an abandon building, just for precautionary reasons. 2 weeks after setting up base, they see a squad of Tri-Droids doing a patrol around the town. The clones use an AA gun to shoot down the squad, but one was a mighty close call. One droid crashed landed into the town, and the arms were peeled back by contact. Soon, the droid army comes in to secure the area...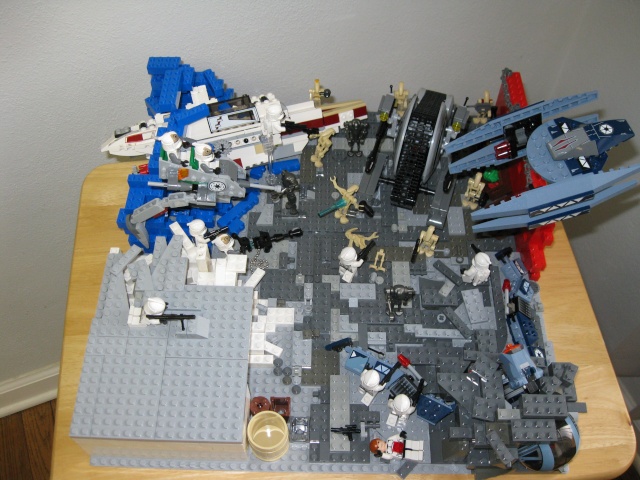 And........ linkage to gallery, it is full of detail, check it out.
Its okay, I think the best part is the area on the ground with the grey plates by the downed tri pod droid.

Ground is too plain, but it's a neat scene overall.

Why are there so many studs and what the hell is that blue stuff?

Darth Yoda wrote:Why are there so many studs and what the hell is that blue stuff?
It's from an imaginary waterfall duh.

The blue stuff is the building, (*hinthint*readthebackstory*hinthint*) and there are so many studs because some people don't like to build every freakin' thing in SNOT.



Similar topics
---
Permissions in this forum:
You
cannot
reply to topics in this forum