At first I thought I would put treads on this but instead these wheels actually looked better so I went with them. My concept of this creation is an armed delivery truck for my legion. So what this does is it brings explosives, guns, clips and everything they need. At the top it has a turret(obviously for protection) with a macro view mounted on top of it. In the back of the truck is a hatch to get to the supply crates. And at the side there is a rocket launcher, it slides back into the vehicle and there is one that comes out the other side too.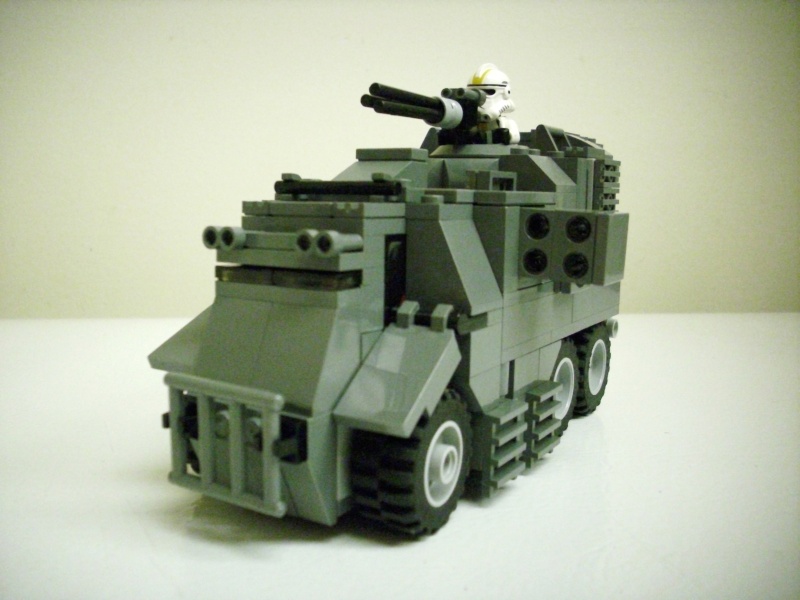 I want to link you guys to a gallery but I don't know how.

Anyways I hope you like it. Oh and if the picture comes out really huge I appologise.

Doesn't fit in the SW 'verse.

Give it a sci-fi solider of some sort and it would be great.
Pretty nice, though everything looks a bit cluttered.

But what Jens said, doesn't really fit hear.
Good job on the turret on the top of the truck.
Why don't you just add a link by copying the web address URL at the top and just pasting it, it's what I do and it's a direct link.

Why should it go in the other creations section? It's a clone wars vehicle. How can I put it in the other creations folder now anyways? I gave it my best to look SW'verse but I guess it didn't turn out.
Not many things in the star wars universe have wheels.

There are actually besides the turbo tank(juggernaut) vehicles that have wheels, but I can't think of them.


---
Permissions in this forum:
You
cannot
reply to topics in this forum