My submission to our 1-2 week WWII MOC (Phima and I). His is on flickr, as is mine.
Anyways not my best work, there is detail in it though in the buildings that I couldn't get shots of.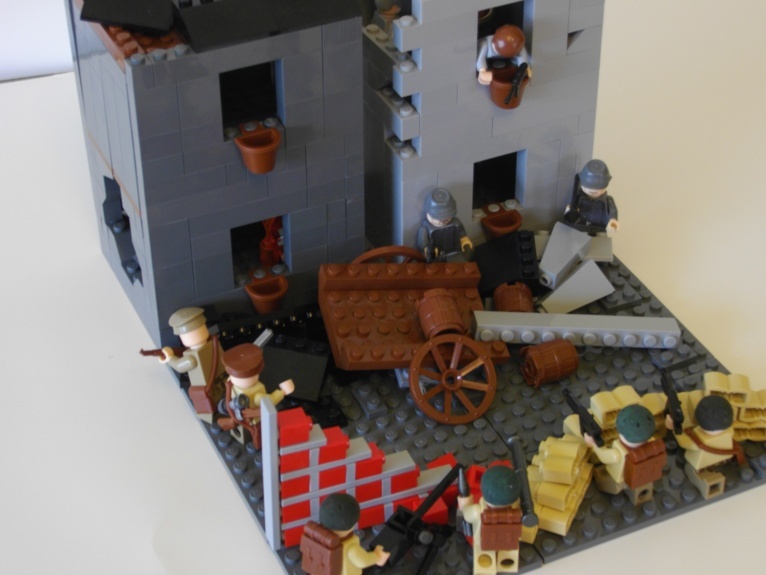 More in
set(link)<.

Comrade Faie

Guild Member





Age

: 22


Location

: Viva La France and Rick Alstley






Great job on the building and ground details!
A crater and a little fire on the ground and maybe a hole or crumbling wall on the buildings on this MOC would make it perfect!
Great job otherwise, though.
I am a fan of this! Nice MOC, I like the rubble and the Dutch underground guy.
________________________________________________________________

Clonecommando007

Kinda like a UFO





Location

: Ohio






I like the sandbags technique.
The only interesting part to me is the sandbags and the brick wall.
The guy on the roof looks like he's going to say, "Bonzi bitches!"

Man on fire

Non-Guild Member





Location

: In someone's mind






Welcome man on fire! Try to censor bad words, cause little kids(10 year olds) can see this site.
Whoops, my bad. I think I'll be a little more, you know, censored.

Man on fire

Non-Guild Member





Location

: In someone's mind






Thanks guys, I've used that brick wall before and I thought I should put it in the spotlight again.

Comrade Faie

Guild Member





Age

: 22


Location

: Viva La France and Rick Alstley







Similar topics
---
Permissions in this forum:
You
cannot
reply to topics in this forum