Well I have made my favourite figure from star wars. I have lately become really addicted to 'Force Unleashed' so that's why I made this. Anyways you just want to see the fig so here it is!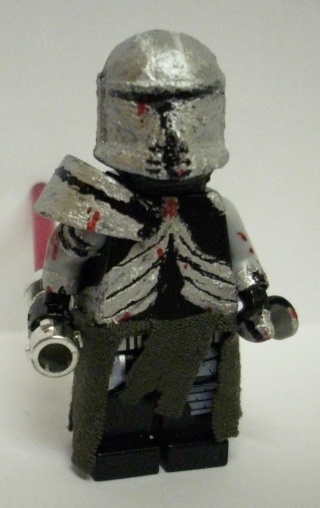 Here is how I made it:
-helmet was hard to paint since the visor wasn't open and the paint was thick(and sharpied)
-legs are purist
-torso is painted and sharpied
-arms are painted and sharpied
Well this is my first good non decalled fig. I thought I'd give it a try.

Any comments or critism would be appreciated.
Sorry, but I like PD's better.

Good job though, a tad bit messy.

Alpha

Non-Guild Member





Age

: 23






Yep...quite a bit messy...
Very messy! This is a good example of why I'm a purist. Sorry.

________________________________________________________________
Signature by RΟΟK, on Flickr
It would actually look okay if it weren't so messy. It looks like you used one of those ARC Gunner helmets, correct?

The concept is
good
, it would have been
better than PD's
is you had actually pulled it off.

I don't know how the kriff you painted that helmet, but it needs re-doing.
EDIT: Phima, this is not a bumped topic!
Yes it is, last post is from Dec 10th 2009. That's 2 months ago.
~DP

Custom 333

Non-Guild Member





Age

: 21


Location

: In front of a computer.







---
Permissions in this forum:
You
cannot
reply to topics in this forum