Well here is my Multi Weapon-Squad Transport. It is similar to an AT-TE in body design.
The legs are similar to those of an AT-OT. This AT walker is capable of holding:
3 Clone Infantry
1 Pilot
1 Gunner
For the 'squad' I'm using Commander Fox, two regular security troopers, a gunner, and an Ep.3 pilot.
I'm quite happy with how it came out, it's one of my favorite creations. I hope you like it.
Overall Look: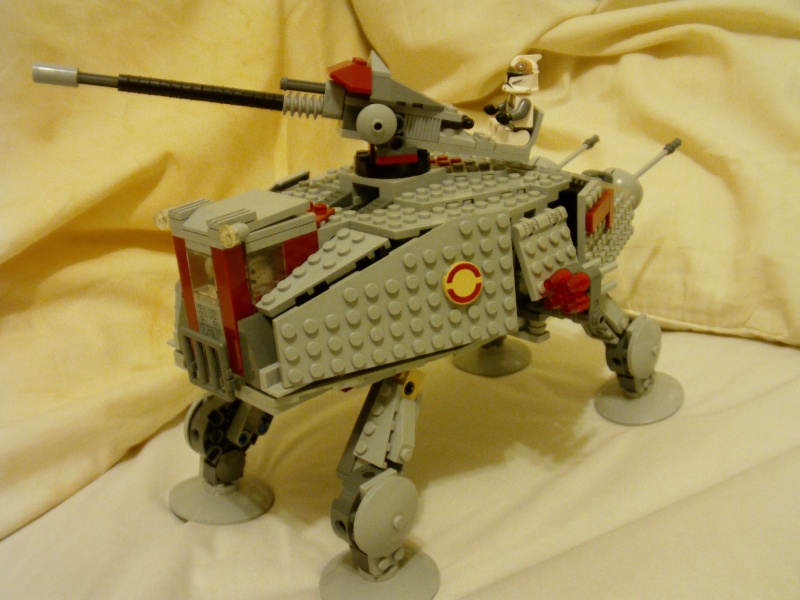 Gallery:
http://www.brickshelf.com/cgi-bin/gallery.cgi?f=423077
Sorry about the link, it should be working by tomorrow.

That is the shizz. Totally awesome, though it does seem a bit blocky, but it's still cool.

Tital Wave

Non-Guild Member





Location

: California, Yay!






All I really see is a mini AT-TE with one pair of legs removed...

Meh, it just looks like a midi scale ATTE without the front four guns.

To me it looks like an attempt at an AT-TE that didn't go really well.

Sorry but it has so many studs everywhere, almost no detailing, plus the armour plates don't line up properly.

Awww it's so cute. Nothing giant, but still pretty cool.

I would hear what Troopa said and add something a bit more creative to the back hatch than the same two pod turrets that the AT-TE had.

80-0

Non-Guild Member





Age

: 24


Location

: New York, New YORK!






its very cool you have the pieces and instruccions (i will not publish, I just want to build it) (but with LDD lego digital designer)
Spammer bye bye! -R
Thanks for the comments everyone, honest and straight forward, that's one of the reasons I like this place.
Also is it me or has the kid above always posted the same thing for every topic.

He seemed nice, but ya, he pretty much did write the same thing.

Bl*c I have to say that this is a nice little moc (
), but it looks too much like an AT-TE! (
) You should customize more, make it your own, not a look alike.


Alpha Beta

Non-Guild Member





Location

: Somewhere my GPS doesn't know







---
Permissions in this forum:
You
cannot
reply to topics in this forum