I posted this original image back at the end of June.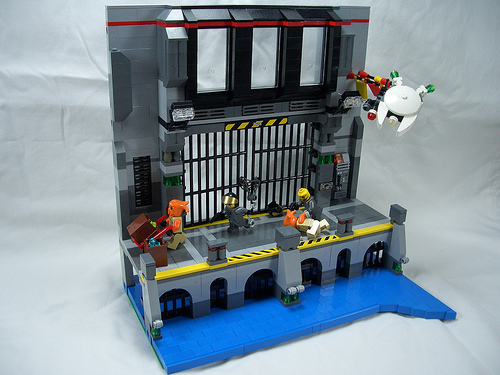 I've been screwing around with the configuration hoping for a more dynamic scene. This is version 4, the second and third rendition go undocumented
as they were nothing more then stick figure building.
A quick and dirty wip photo.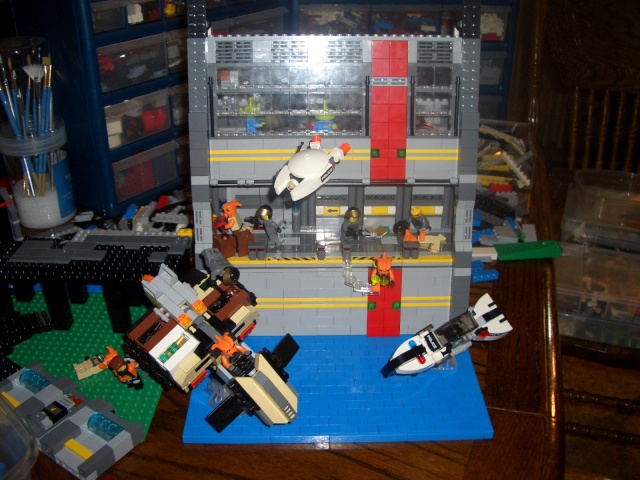 You may not be able to tell from this angle but the wall is at quite a slant. Once I build the next section it will be a lot more apparent.
The wall proved to be rather difficult as it was quite heavy and would pull the second floor with the lgm right off the rear wall.
This is about 6 hours of work today with constant tearing down and rebuilding till I got a stable wall. Any ideas or comments on how to make a stellar scene?
I'm all ears.

Halen

VIP Former Staff





Age

: 33


Location

: Copley, Ohio






First off, I can't wait for better pics. Now, since your going for action, have some water splashing by the speeder, if done right it would make a great effect. Trans-blue, Trans-clear, or blue cheese will work well, and fit the style of the MOC, another option is trans-blue fire since you can stack them and manipulate the shape. I think the cheese would blend better, but the fire is much more flexible. I'd try both, and see which one works out the best, and which you prefer. Good luck with the rest of the project!

Knight

VIP Former Staff





Location

: Anywhere with lego.






It would be cool having an alien jumping out of the window! Can't wait for the final results!

Not sure if it's just the way I look at it but the first one looks better than the second imo because the second just seems like a solid wall to me while the first one is a combination of wall, buildups, and gates.



Similar topics
---
Permissions in this forum:
You
cannot
reply to topics in this forum