As the name HAC is already given to a BrickArms proto, I have to look for another name.
In fact, this is going to be an armoured 4-wheel vehicle, slightly inspired by the one you get to drive in Black Ops on the Island of Reincarnation.
There will be a roof and some heavy weapon thing.
Right now, there is only the basic thing.
There will be a lot more detail.
I would like to hear your ideas and critics.
You can switch open the armour plates: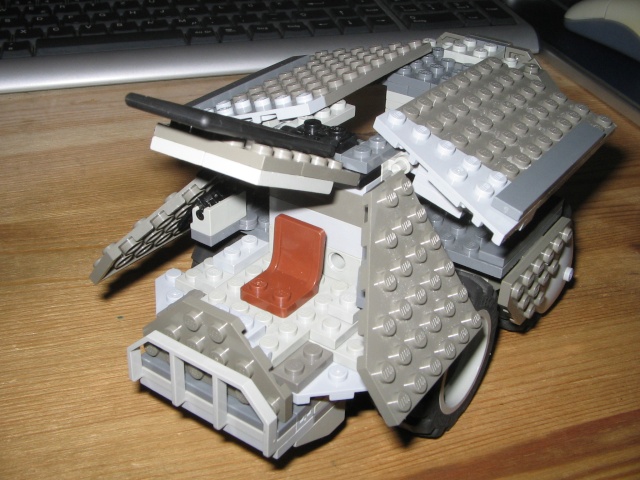 KalSkirata

Guild Member





Age

: 24


Location

: Mandalore






Make sure when you're doing the final thing, that the grays aren't mixed (Unless you want to get the old and rusty look on it). Make the chair a different color if you can, and remove the technic piece... Unless it's needed in the design.
I love how you got the shape though, truly very nice.

EDIT: Forgot to mention the wheels! The back wheel in the pic as a hubcap on it, but then the other does not. If you're weren't planning to, I recommend doing the same with the front wheel too.

Last edited by why on Fri Dec 03, 2010 1:06 am; edited 1 time in total

why

Non-Guild Member





Age

: 23


Location

: why do you need to know? You an agent?






Why said exactly what I was going to say!
Mixing the two dark grays rarely works. Unless you're going to tile and greeble the plates with 1x1 and 1x2 assorted grays, you might just get it too look like grey camouflage.

Best of luck.
________________________________________________________________
Signature by RΟΟK, on Flickr
Good start. Add some more detail and this will be really, really cool. Keep up the good work!

train 01

VIP Former Staff





Age

: 20


Location

: Maryland






Looks good. You could add a little more detail to it. Other than that, good job
Read the rules about bumping old topics. - R

TheNexGenBuilder




Age

: 20


Location

: In a galaxy far far way........OK OK Indiana






This looks like it could be epic. Can't wait to see the finished design.

Don't add to bumped topics. - R

PS: Look up the meaning of "epic".


---
Permissions in this forum:
You
cannot
reply to topics in this forum