Rhen Var was miserable. I've only been out in the open for something like twenty minutes, and I can't even feel my feet. This rock is probably the worst place anybody could wish to be - it's cold. Unbelievably cold. Also, we're out here for the most pathetic reason ever. The Republic has sent an entire fleet to this ball of ice just because the Jedi Council is paranoid. Sure, we've spotted CIS activity. But nonetheless, what is there to be suspicious of? There's nothing valuable on this system.

It's sad how many men are dying for such a ridiculous attack. I just can't wait until we pull out of this god forsaken planet. This place is freaking me out. Earlier in the day, we sent out a squad of scouts to search the Harbor Station for any Republic survivors. We haven't heard from them for six hours. The gear is unloaded, and the station is still running. But there are no men to operate it. Something has gone terribly wrong; and in my book, it is best to just stay out of the way.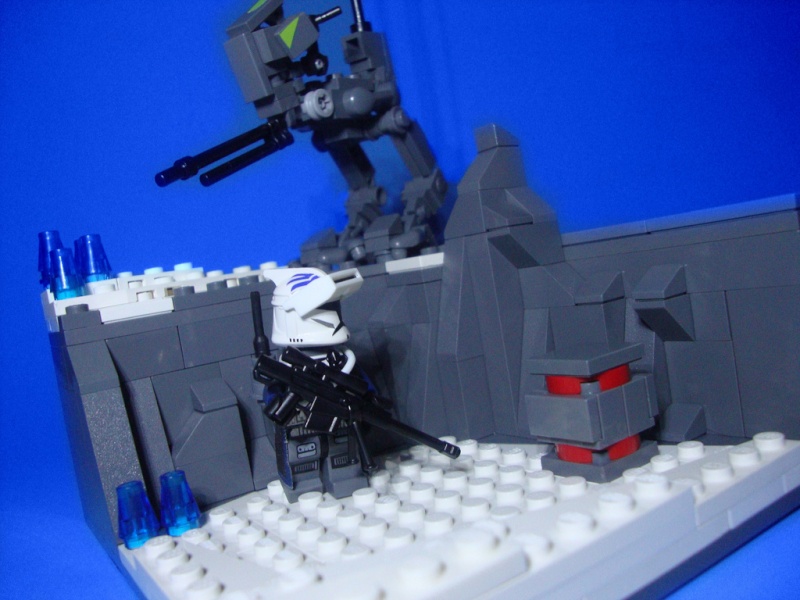 Justin Pyne

Guild Member





Age

: 21


Location

: Hiding in your closet.






Nice work! I like the storyline, because it gives great Character to the scene. But what are those transperent bue cones supposed to be?
Not bad. It looks pretty good, and I like the AT-RT as I might of said before. Solid vig.
I like the rock face in the background, and the kind of "cliff" feeling given by the rocks on both sides. However, the "snow" in the front could use some layering or studs to give it a more "snowlike" feeling because real snow is not even.

Your really batting good at building. And your figures are awesome.

Danester Man

Guild Member





Location

: In a place.......








Similar topics
---
Permissions in this forum:
You
cannot
reply to topics in this forum