Hello everyone so here is my entry for the Corps challenge (8x8).
Commander Daze leads his squad on an assault from a Republic Gunship.
The Republic Gunship kind of sucks because it was built on an 8x8 and I couldn't get every part of the gunship shown. And that's not the full gunship wing, it's just the front part. However, I did try using a couple new techiniques to make the engine part on the top and the wing area please leave your feedback on that too.
I know it's not really that great but I haven't really built anything for a while (I feel like I'm losing the building touch) and I worked really hard and took the effort to put this together and it's definitely not the best but the point is I tried. So please don't be too hard on me.

Thanks for looking!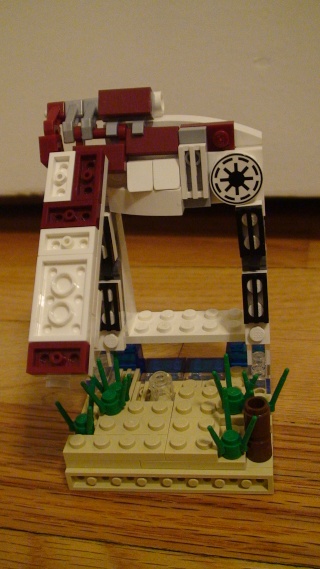 Hah, that's a clever cutaway of the Gunship. However, I think the wing could use work, as it does seem a bit cluttered.


Justin Pyne

Guild Member





Age

: 21


Location

: Hiding in your closet.






I don't know if the scale is correct, but otherwise, good job! I love the gunship, though. Can you make a full one without the weird perspective wing?
Great job. I love the gunship, you should rely make a full scale version.
That gunship facade is a nice one!
Love the figs and love that idea. Simple(ish) but awesome!
That is a very good mini laat and alomost all of the clones are arealight
and a 41st legion scout is in a tree, love it!
Please don't bump topics that are older than two weeks. -K


Similar topics
---
Permissions in this forum:
You
cannot
reply to topics in this forum