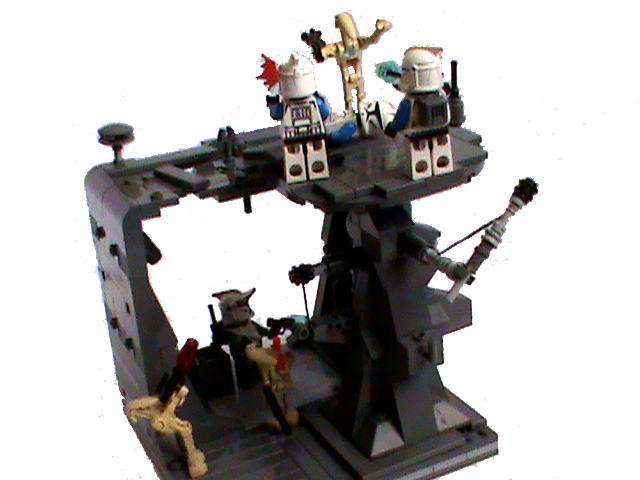 I would get him. I just knew it. I chased Snake to his hideout. An abandoned industrial terrain. I split up with Copper and Voche, to both achieve our personal goal and our military objective. This was war. The damn murderer had his own freakin' droid army!

As I made my way through the buildings, I encountered more and more B1 battle droids. The blasted things were everywhere! "Sir! Are you there sir?" "Yes, Voche, what is it?" "Sir, Snake is coming your way!"

Suddenly, I heard a blast door open. Those familiar footsteps. Snake! I wouldn't let him escape this time. I could hear him talk: "Don't stand there, take out the intruder!'' Not gonna happen.... I ran, shot, ran. Every droid he sent out was doomed. "Sir, Voche here again." "What is it?" "I hacked the main terminal of the building. I suspect Snake is heading for the platforms. He's going to leave Corusant!" "Okay, I'll make sure his corps can rot on this planet!"

I could see him now. Only ten meters in front of me. I aimed my handgun. Picked it up while on transport to this little hellhole. One shot. Hit him in the leg. "Damn!" I had aimed for his head....

He continued running. The platforms were only a fem more meters. But he dropped. As he got back on his legs, I cornered him. Blam blam. Took him and one of his stupid B1's out. His lifeless corps dropped on the ground. "What goes around comes around, b****."

Then I realized there had been more combat than I thought... I clone's corps fell down from a very small platform, next to the building I just exited. "Nooooo! You will pay for that, clancker!" A powerful shot took out a droid guarding the exit. As I looked up, I saw the one I would expect the least to see here: My old buddy from Kamino, corporal Cliff. I recognized him immediately. I guess that's what happens when you band like this with a clone. You will recognize each other the instant you see one another. "Hey, Rocco, old friend! Good to see you're still in one piece. I came here to get you. The 253d is going apart. You will join me in the 457th elite corps."





I know, the pictures aren't that good. Trying to force my parents to buy a better camera. No luck so far.
I will participate in the 457th missions from now on. But Rocco, Cliff, Voche and Copper will still be there!
And if Justin hasn't got any problems with it, I will still post my missions here too. And why would he have any?

C&C are welcome, but please don't start on the photography.

Also, thanks to Rook for the photoshopping
Last edited by 253d legion guy on Tue Jun 07, 2011 3:43 pm; edited 1 time in total
Oh hay there. I know this came very soon after mission 4.2, but who cares?

So, (posting this comment to get my topic back in the attention) Legion out!
Be sure to clean up you background if isnít seem less, to improve the over all look of your MOC.

I did this rough version in about 90 seconds.
________________________________________________________________
Signature by RΟΟK, on Flickr
WOAH!! Thanks Rook! How did you do that? GIMP?
Yeah basically. Just magic wand out the back ground. I use an old version of Photoshop.

Basically its the same as the free version of GIMP.
________________________________________________________________
Signature by RΟΟK, on Flickr
The MOC looks pretty good with the hanging pieces around it. It's a pity it's kind of hard to see with the rough editing though. :/


Similar topics
---
Permissions in this forum:
You
cannot
reply to topics in this forum