After the events on Geonosis, Command asked me if I wanted some new squad mates, but I told them that no one could replace Mitch and Micky and I didn't want some rookies that had no clue what was going on, so I told them that Nix and I could handle Taris. When we got home to our Venator, we were informed that the first part of the attack would involve an air drop so we had to be outfitted with new armor. I sure hope when we get to the ground I can get rid of this equipment,it weighs a ton. Well I guess this is the first mission without Mitch and Micky....lets hope Nix and I can handle it.

~Bob B~

VIP Former Staff





Age

: 22


Location

: Michigan






Nice yellow man. I see what you did with that torso there.

Lets hope these guys don't end up like my Oh No contest entry...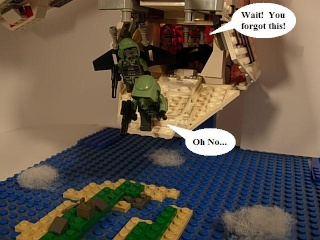 Sorry I just had to post it after seeing the jetpacks!
________________________________________________________________

Clonecommando007

Kinda like a UFO





Location

: Ohio






Oh! *Pass out then suddenly wakes up* The yellow trooper is astonishing. Where did you get that yellow rubber band? I don't even know where people get the white ones! Well you seem to make nice figures and this is something you should continue.
It's amazing how much a single graphic and few canisters does for this image.
I agree, instead of just a couple minifigures the image looks very well put together !
________________________________________________________________

Clonecommando007

Kinda like a UFO





Location

: Ohio







Similar topics
---
Permissions in this forum:
You
cannot
reply to topics in this forum