Council Member Spotlight III
Rabid Squirrel
ROOK: Q. 1. Tell us briefly about yourself. (Share a picture(s) of yourself if you wish.)
Rabid: A. 1. I'm from California. I play water polo and I'm on a swim team. I've been in the LEGO Community for almost 2 years now. I do graphic design/art, web design/developing (I design Tumble themes and static websites with HTML and CSS specifically.), and other graphical stuff like logo creation.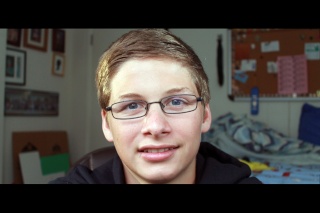 ROOK: Swim team? So you can hold your breathe for the length of the pool? ROOK: Q. 2. What was your first set (include image)? How did this influence your love of Lego?
Rabid: A. 2. I actually can't remember, sorry. :-/
ROOK: Really! You couldn't make a wild guess!

ROOK: Q. 3. What do you like most about the Lego online community? What do you like the least about it?
Rabid: A. 3. The people. The amount of feedback I used to get was awesome. There was some mean people, but some people were just so helpful and nice that even though it was just the internet, I respected them. I can only hope to hold that position for future generations of builders.
ROOK: Mean people! Oh wait hold on phone is ringing…
…oh sorry that was some Raving Rabbit from California calling me a j*** a**.

ROOK: Q. 4. What is your favorite MOC? Why?
Rabid: A. 4. Off the top of my head, this: "Slum Dogs" by Saint_Zvlkx



I've seen better builds, but this is just so photo-realistic, and I love the design of everything in it.
ROOK: Ah that was "Your Creation" not someone else's. See next question.

But I'll answer this one for you then. This my favorite of yours:




It's like I've seen this before somewhere somehow.

ROOK: Q. 5. Who is your favorite Builder(s)? Why? Include image of one of their MOCs.
Rabid: A. 5. Wimbe, for sure. His stuff is great. I like a lot of builders, but his stuff really appeals to me.


ROOK: Q. 6. What is your preferred Theme to build in? Why?
Rabid: A. 6. Mecha, because I'm very limited in my parts selection. So it's really all I can build well. (moderately).
ROOK: Q. 7. What do see for yourself in future as far as building projects?
Rabid: A. 7. I'd love to try to make a scene if I ever get more parts. I love photography, and I'd love to mix my two hobbies, photography, design, and building.
ROOK: Q. 8. Tell us about something that wasn't asked above.
Rabid: A. 8. Some advice to younger users mainly but users in general. Don't stop building! Find something you like: twist it, turn it, bend it, or whatever into your own project. It doesn't need to be huge, or really small, but make it yours. If you find a mecha or scene or vignette or anything you really like. Try to duplicate first, then change it to make it your own. That is how you learn, and get better.
ROOK: Well have to say I had fun razzing you, but there's no joking around when I say your photography skills far out rank mine. And new members should be looking the quality of your images when they are thinking about making an application to join the Guild. Thanks again from the CABG Staff.
Last edited by Rook on Mon Mar 19, 2012 2:16 pm; edited 1 time in total
________________________________________________________________
Signature by RΟΟK, on Flickr
Indeed, he has some of the best photography I have seen.
D'aww, thanks guys. I really love photography, and just an FYI, I mostly just use one lamp...sometimes natural light, s it's really your set-up, you don't need a lot of equipment.

Rabid Squirrel

Guild Member





Location

: here






Wow, I play Water Polo too! Do they play dirty where you are? Where I play, everyone bends the rules to the max, since we play rival schools. It's still a heap of fun though. ;D
Oh These are very cool series... great to learn more the people behind prominent builders.
@RS - doesn't your fur smell after you get in the pool?

I'll PM you a picture of me tomorrow, I had just gotten out of the shower when I checked my inbox.

Rabid Squirrel

Guild Member





Location

: here






Maybe another question you can ask on future interviews is - what's with the name?
how/why'd you choose it?
I bet there are some interesting/possibly amusing stories behind some names.


Similar topics
---
Permissions in this forum:
You
cannot
reply to topics in this forum