Hey guys, I typically don't promote myself but we need your help!
Thanks!
https://www.missionsmallbusiness.com/
Click on the link above, click on "log in and support" and then search for "eclipsegrafx" and click vote.
With your help we can improve the quality of our service, reduce prices, and increase productivity. It will also support a loving family of 5 (guilt trip intended:P).
Last edited by eclipsegrafx on Tue Jun 26, 2012 6:06 am; edited 1 time in total
Also after you vote please repost on your photostreams and so forth. Lets get maximum viewers on this since we have less then 5 days now.

Thanks!
I did it, pretty easy. Could you give me a link to your bricklink shop?
Last edited by herpderpterp1 on Wed Jun 27, 2012 9:09 pm; edited 1 time in total
Congrats! You did it! Of the few people that are being successful with Lego related businesses, you certainly deserved it the most. Not trying to be selfish here, but do all voters or the first 250 get the figure? If I am able to get one someday, it may encourage me to buy more
Once again congrats!
Very easy to do if you have a Facebook account. You can click "Log in with Facebook" type in "eclipsegrafx" and click vote (which changes to "supported" after voting: see below). Took me about 20 seconds.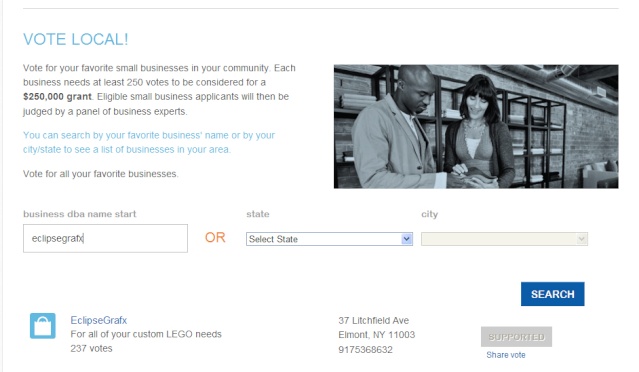 ________________________________________________________________
Signature by RΟΟK, on Flickr
I don't have a Facebook....
C.J.Cutrone9 wrote:I don't have a Facebook....
Me either. My mum is against it for some reason...
I don't have Facebook because I think it is a waste of time.
________________________________________________________________
My Flickr
I'd say why I don't have a Facebook but don't want to get off topic.

And Congrats Eclipse! Pretty sure I saw that you made it... Might be wrong thuogh....

---
Permissions in this forum:
You
cannot
reply to topics in this forum