The VAP-36 Vaporizer (Vertical take off Attack Platform) fills the Close Air Support role better than traditional helicopters by doubling the range, payload, and speed of its counterparts.  There are sixteen hardpoints under the fuselage, with a minigun turret linked to the pilot's helmet. The Tiltrotor is also equipped with a troop bay with a capacity for six soldiers, and a cargo winch, and thus can act as a troop transport and in the aeromedical evacuation capacity as a secondary role.  It's a one-stop-shop airframe for all of your battlefield air support needs!
I've had this with me at school since I finished the second iteration over Christmas break, so I decided to throw it on a sheet and get some photos to share.  Photographing my models is not my strong suite and is what keeps me from sharing alot of my recent builds...
Note the sliding door on the troop bay.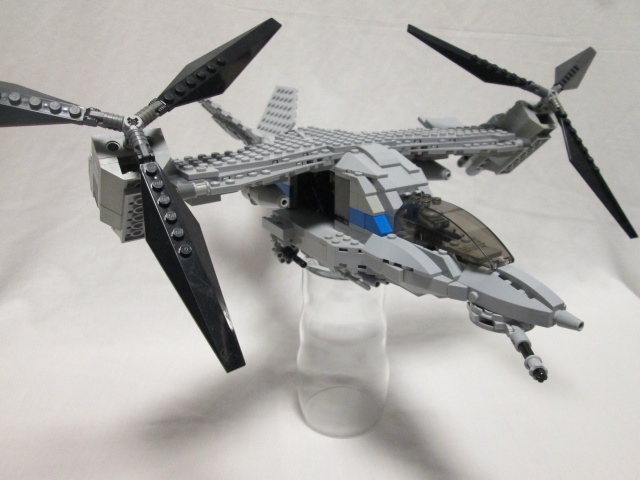 The rotors are syncronized by bevel gears attached to a torque shaft running through the swept wing, this is the primary function of this model.  The rotors can also be spun by turning the jet nozzles behind each engine!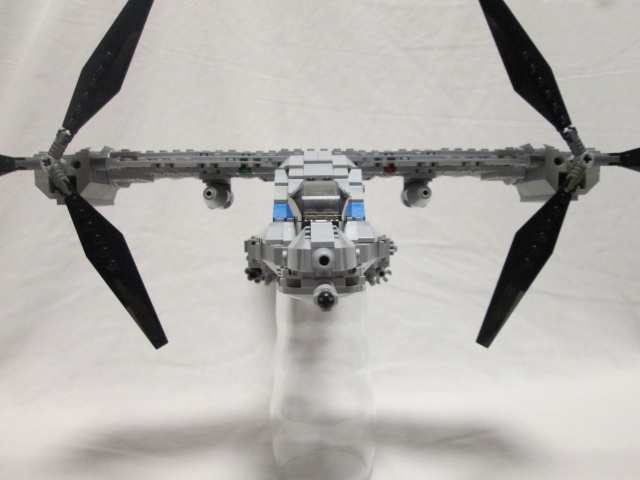 A cannon/grenade pod and a rocket pod are typically loaded on the outboard hardpoints; the pods along with the minigun turret can be swiveled and aligned to fire upon a point-target while the aircraft circles above, AC-130 style!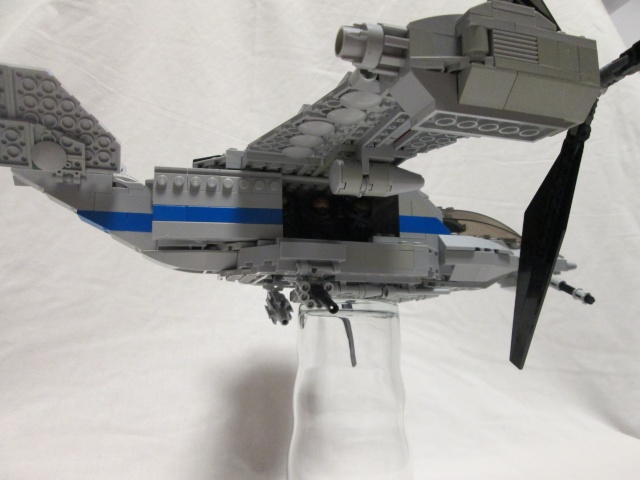 The tiltrotor is equipped with fully moving flaps, ailerons, and a pelikan tail.
Here is the aircraft on the ground with it's troop bay sliding-door shut.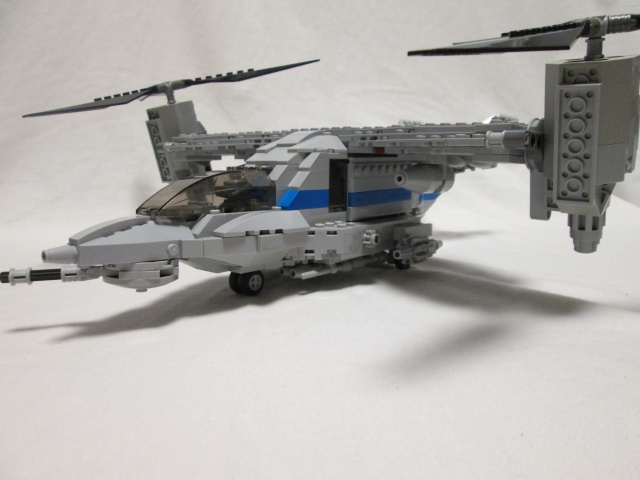 Note the forward-swept wing!  Getting the torque-shaft for the engine to run through the sweep of the wing was a structural nightmare.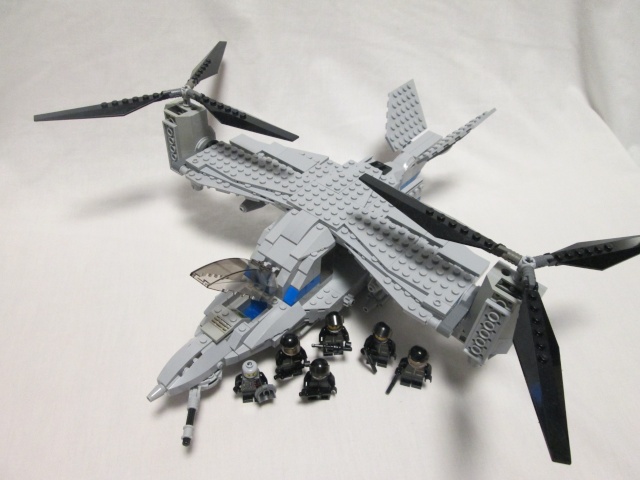 Thanks for looking, here is the full brickshelf gallery!
________________________________________________________________

Clonecommando007

Kinda like a UFO





Location

: Ohio






The band of blue is really nice, and the nose is awesome. Too many studs showing for my liking, but the turning rotors is a really cool feature.
________________________________________________________________
My Flickr
The studs are an unfortunate side-effect of the forward swept wings and the thickness they have due to the torque shaft. It's not super smooth, but the wings are already four plates thick to accomodate the shaft, adding on a smooth-tiled layer would give even more bulk, and they would make the leading edge of the wing much more jagged on top, the angles are already stepped to form a semi-airfoil shape.

I have a smooth tiltrotor with straight wings back home I'll post over my next break that you might like more!
________________________________________________________________

Clonecommando007

Kinda like a UFO





Location

: Ohio






Yeah I did realise that, even though the studs aren't ideal there isn't much other option. Maybe bricks on their side?
________________________________________________________________
My Flickr

---
Permissions in this forum:
You
cannot
reply to topics in this forum