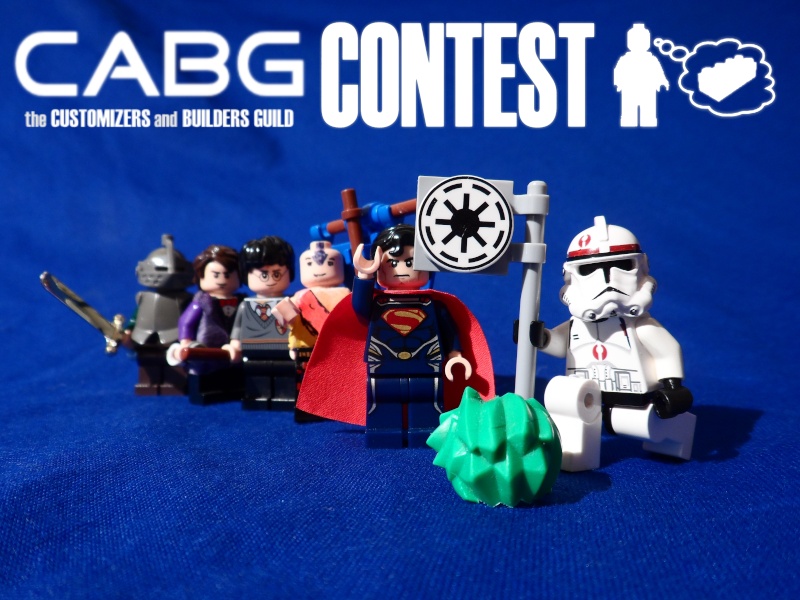 CABG COMEBACK CONTEST
Build a MOC or Minifigure of your choice from any movie or TV show!


Entries must be new for this contest, no past builds

Entrants must be Guild Members, click here to find out how to apply!

Entries must be posted as a topic on the CABG forums and in the entry threads

You must post some kind of reference picture of the scene/person/object you are depicting

Prizes will only be given out if there are 5 or more entries

Deadline is 30th April!

Prizes
          MOC                                                      Minifigure
                   Winner         Battle Pack of your choice                        
 Battle Pack of your choice
        Runner up                 [TBA]        
  [TBA]
Last edited by Fithboy on Thu Mar 05, 2015 4:30 pm; edited 1 time in total
Lets say I made a star wars vig based on a certain battle would that count?
Or do I have to find an image to base the build off of?

TTROOPER

Guild Member





Location

: somewhere






As long as the battle is in the Clone Wars or movies it's fair game
oh okay so it doesnt have to based off a picture just an event?

TTROOPER

Guild Member





Location

: somewhere






I meant Clone Wars TV Series, not a video game or novel. That way it's still a movie/TV show.
oh okay alright I guess its time to start browsing through battles that happened in the TV series.
Sadly that gets rid of my first option which was the battle of Merson

Well time to get started!

TTROOPER

Guild Member





Location

: somewhere






Good to see a contest here! Any movie or TV show eh? That gives me a chance to make some mechs from some of the anime's I've been watching....hmm.

No size restrictions, correct?
Nope, anything goes. But remember, small and detailed is better than big and bland.
how many entries can one person enter?

TTROOPER

Guild Member





Location

: somewhere






One MOC and one Minifigure

Similar topics
---
Permissions in this forum:
You
cannot
reply to topics in this forum