I may sell the gear in pic. 2 as a german gunner pack for $7-$10 would you buy it?
A pair of german, showing off the gear.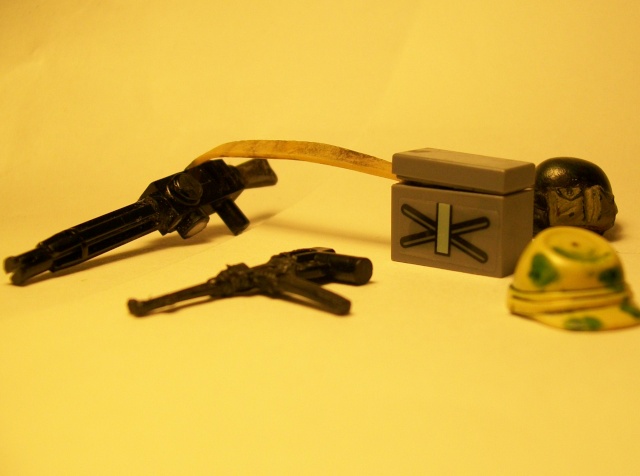 A close up.
Last edited by Commander Lukas on Tue Aug 18, 2009 2:20 am; edited 1 time in total
It's nice but next time don't felt pen the camo

.
The green-on-tan is a nice idea, though as Xion said perhaps a better application is in order. I like the MG and its box, too.

80-0

Non-Guild Member





Age

: 24


Location

: New York, New YORK!






Thanks for the tips guys. I'll work on better camo soon.
The MP40 is cool but too long.
The MG42 is sweet, but make it silver and add a bipod.
The helmet doesn't look like one at all IMO.

DarthPineapple

VIP Former Staff





Age

: 23


Location

: The Netherlands






It's too rough. The camo is a little runny, the MP-40 has a bent barrel

, and the helmet's edges are ragged. And the latter's resemblance to the real thing is... well, dubious at best. The MG42 is nicely done, but I don't like it's ammo belt. Maybe hot glue or epoxy some of the Brickarms clips together? A minute dot of it right at the point of junction should give you a VERY strong hold, without a big mess.
And have you ever though decals for your camo?
It needs a LOT of work, but it's a good start

.
at the MP40.

Other stuff is ok, though. Other than the helmet...
It looks cool. I voted maybe. I would vote yes if it camre with a whole figure. So that way I have a shirt that matches the hat.


Similar topics
---
Permissions in this forum:
You
cannot
reply to topics in this forum