Well, here is yet another one of my custom Clones! Cold Assault Shiv!
Enjoy!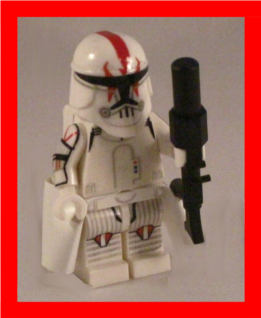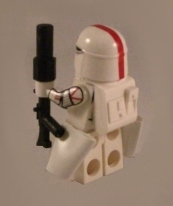 Yes, the pictures are now MUCH better (due to my new tent light!)
I also need YOUR guys' help, should I use a plain white background with a trim the color of the clone?
Or, should I have a different background? C&C appreciated!

Guest

Guest





Excellent work The_Custom_One! I like how you made the pockets for the blasters (excuse me for not using the right word).

I believe he was in a Clone Wars comic that I read a couple months ago.
But in all, I like it.

GeneralKydanWitress

Non-Guild Member





Age

: 23


Location

: Mandalore






Umm! Sugar! Little more lighting maybe to help have a clearer image.
________________________________________________________________
Signature by RΟΟK, on Flickr
Shots against black seem to bring out the figures for me. No need for fancy trimmings.

I don't like that waistcape. :|

For background I like seeing a fig in something realistic. Ex. Snowtrooper against a snowy background.
I agree with Troopa, I think a more realsitic background is required. The minifig is really good, and I really like the gun holsters(if thats what they are called) on the Kama. Great job!
Great minifig. There should be a more realistic background, though.

train 01

VIP Former Staff





Age

: 20


Location

: Maryland







---
Permissions in this forum:
You
cannot
reply to topics in this forum