In the 47th legion's HQ, there is a lab used to read the memory chips of captured battle droids. The lab itself is always being updated. The pair of clones pause their work when they hear a scream from the other room, both clones turn to face the door. Suddenly some infected people rip off the door and come steaming in. Even Indiana Jones and my Steampunk Brit have been infeccted.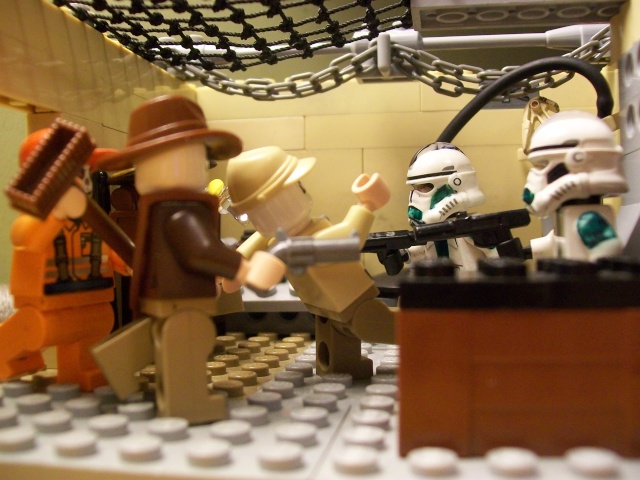 Gallary will be up soon.
Last edited by Commander Lukas on Mon Jul 13, 2009 1:55 am; edited 1 time in total
Cool this looks very nice with clones trying to hold the zombies off. Although some more pictures in the post would be nice.
Lucas, this looks NO-THING like Coruscant, again. If the 47th had an HQ on Coruscant, it would be their Legion Headquarters, a stationary and very impressive complex. Not what looks like a field OP.

I refuse to comment until you do an MOC on Coruscant. I have nothing but beige elements, too - but I was able to pull it off.
I think it's ok but I have to agree it's not really so much Coruscant. I would really like to enter this contest however but I'm not a guild member...yet.
What Sial said, it's on Coruscant, the major planet of the Galaxy! That just looks like some crummy field office, Headquarters would be vast filled with computers and databases with information, this is just tan walls.

Onto the MOC, it looks nothing like Coruscant, and it has no floor detailing. Just a grey baseplate (Which isn't a bad thing, but it contrasts terribly to the tan), and some tan bricks.

Needs tiles, details, ect.

Alpha

Non-Guild Member





Age

: 22






I have to agree with everyone above me , It looks nothing like Coruscant. It lacks in grebbles and design and the base plate like said before me is rather plain.. If i could rate it i would say 3/5 stars.

Darman

Guild Member





Age

: 21


Location

: America







---
Permissions in this forum:
You
cannot
reply to topics in this forum